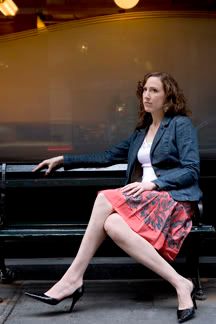 Vocalist/Composer JULIE HARDY ON TOUR
In Support of THE WISH -
Now available on Kendrick Scott's World Culture Music Label
"On her new album, "The Wish" (World Culture Music), Ms. Hardy burnishes her growing reputation as a musically astute and thoughtfully modern jazz singer."
- Nate Chinen, New York Times
"Julie Hardy's new CD, The Wish, builds on the reputation of a singer well equipped to handle everything modern jazz vocalism demands: candlelit standards ("I Wish I Knew," "All Or Nothing at All"), repurposed pop hits (Lennon/McCartney's "I'm Looking Through You"), effortless improvisation and a strong writer's pen. See her now, while it's easy."
- K. Leander Williams, Time Out New York
"There is so much to like on 'The Wish.' Each track has something to recommend repeated listenings." " . . . this recording shimmers." " . . . Julie Hardy has created a work of art that gets richer each time you listen."
- Richard Kamins, The Hartford Courant
TOUR DATES:
Boston CD release party/performance:
TUESDAY, DECEMBER 11 at RYLES!
8:30PM, Randy Ingram, piano; TBA, bass; Eric Platz drums.
212 Hampshire Street, Cambridge, MA, $8 cover
New Hampshire CD release party/performance:
SUNDAY, DECEMBER 9 at THE PRESS ROOM
6:00PM, Randy Ingram, piano; TBA, bass; Eric Platz, drums. 77 Daniel Street, Portsmouth, NH
Vermont CD release party/performance
FRIDAY, DECEMBER 14 at THE CATAMOUNT CENTER FOR THE ARTS
7:30PM, Randy Ingram, piano; TBA, bass; and Eric Platz, drums St. Johnsbury, VT, Tickets: $10.
Baltimore, MD CD release party/performance
SATURDAY, JANUARY 26, 2008 at An Die Musik Live!
7:30PM, Randy Ingram, piano; Matt Clohesy, bass; & Jared Schonig, drums.

SATURDAY, MARCH 15, 2008
Clark Terry Jazz Festival - Durham, NH
Randy Ingram, piano; TBA, bass; and TBA, drums
This winter vocalist/composer Julie Hardy will be appearing at venues in the Northeast in celebration and support of her critically praised recording on the World Culture Music label, The Wish. Hardy will be appearing, with pianist Randy Ingram, and others, at Ryles in Cambridge, The Press Room in Portsmouth, NH, The Catamount Center for The Arts in St. Johnsbury, VT. In March of 2008, Hardy will be headlining the Clark Terry Jazz Festival in Durham, NH!
From the opening phrase of "We Kiss In A Shadow" (Rodgers and Hammerstein), on The Wish, it is clear that Julie Hardy is not only a gifted re-inventor of standards, but so much more. She possesses a beautiful, round, full tone that rings with honesty and fervency, and her love for singing this music is ever-present in her timeless delivery and phrasing. In short, her voice delivers everything you could hope to hear from a great singer in any genre.
Julie Hardy, a recent winner of the ASCAP Young Composer award, presents a diverse program on The Wish, demonstrating her formidable talent as a composer with six original compositions. "On the Verge," "Patience" and "Soaring" form a suite depicting the artist's personal journey as a musician in New York City, and showcase her gift for creating stunning melodies set over modern harmonies and grooves. Hardy feels that she can "tell a story with or without lyrics", and her compositions prove to be just as evocative as the great standards found on this recording. When listening to The Wish, one can hear that Hardy's every musical move is fully integrated within the ensemble. The vocalist/composer's approach is unique and multi- faceted in that she aims to "break down the barriers that commonly exist between vocalists and instrumentalists, and use the voice as another melodic texture, no differently than what a saxophone or trumpet would do." Of course much of the emotional weight of Hardy's music still lives in words. She explains further, "at the same time, I don't want to forget how powerful lyrics can be. My goal is to present the music that moves me, be it one of my own compositions or a standard that I love."
For the recording of The Wish Hardy brought together an amazing lineup of musicians who are causing a major creative impact on today's jazz scene, including Ben Monder (guitar), Jaleel Shaw (alto saxophone), Sam Sadigursky (saxophones, clarinet), Randy Ingram (piano), Matt Clohesy (bass), and Kendrick Scott (drums). These artists have collectively performed with jazz luminaries such as Roy Haynes, Terence Blanchard, John Scofield, Paul Motion, Maria Schneider, Dianne Reeves and many others. "I purposely chose the players of The Wish because I didn't want to have to give them tons of direction. I wanted to capture each musician's unique sound and I wrote music that would provide a platform for them to express themselves," said Hardy.
Composer, drummer and World Culture Music founder Kendrick Scott was an obvious choice for Hardy; "Kendrick has the ability to bring life to my compositions and has such a different perspective than other drummers that I have played with. I'm learning to expect that he will do something fresh and new each time we play one of my compositions". With the release of The Wish, Julie Hardy joins a roster of some of the world's premier talents, including drummer Kendrick Scott, guitarist Mike Moreno, and trombonist Nick Vayenas on the New York based label, World Culture Music.
This story appears courtesy of Jason Byrne, Red Cat Publicity.
Copyright © 2021. All rights reserved.
For interview requests or more information contact Jason Byrne, Red Cat Publicity.