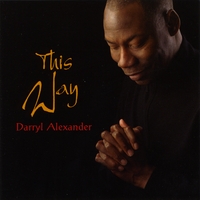 This Way is the new smooth/urban jazz CD by Darryl Alexander, and was created amidst a period of great triumph and tragedy.
Right before I started the songwriting phase of This Way I was tremendously blessed to be able to move into a new home. I had lived in my previous one for almost 20 years and witnessed a once thriving, vibrant neighborhood, where neighbors knew each other, talked with one another, and helped and cared for each other turn into a nightmare. My music room in this home served its purpose, but was somewhat dark, and lacking in vibrancy. When I moved into my new home the music room was quickly set up. Now I had a view, with plenty of sunlight, plants and scrubs to view, and a clear blue sky. Inspired! That is an understatement.

As I began the songwriting, to my amazement the songs simply kept coming in a way that had I had never experienced in my life. Understanding that this was an aberration, I simply went with the moment and worked endlessly and effortlessly until the majority of them were complete. Great triumph, joy unspeakable, but darkness loomed and would soon come.

As I began to start pre-production, tragedy first struck with the death of my aunt, who was the last remaining family member of my parent's generation. This was a severe blow, but I continued to work through it. Unfortunately, 4 months later, tragedy once again reared its ugly head with the loss of one of my closest and dearest friends, one whom I performed with every week. Simply stated, I received the call at home and literally crumbled to my knees. My dear friend had received a heart transplant many years ago, functioned excellently, and experienced rebirth in his life. Ironically, we had not played together for a few years, and I had always been the leader musically. However, during this last 1 and a half of playing together, his piano playing had risen to a level that was truly a blessing to experience and be a part of. Thankfully, he had now become the leader and I was truly blessed to be a part of this experience.

During this period, other unsavory events occurred in my life, and bad choices were made. Working on "This Way" did as much as anything, and more (except for God) in keeping me alive and giving me hope. As I came into the home stretch of finishing this CD, tragedy had once again turned into triumph with God bringing an incredible person into my life, and one to share the songs in this CD with. This Way is reflective of life, with all of its triumphs and tragedy.
For more information contact All About Jazz.