Close your eyes and it could be Jon Hendricks, Mark Murphy or even, at a stretch, Mel Torme.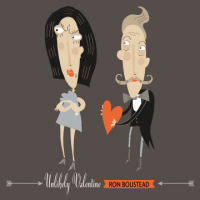 Vocalist and lyricist
Ron Boustead
will perform a CD release concert for his new CD
Unlikely Valentine
on Wednesday, February 22nd at the E Spot Lounge at Vitello's in Studio City, one show at 8pm. Boustead will be accompanied by the stellar band featured on
Unlikely Valentine
, including pianists and co-arrangers
Bill Cunliffe
and
Mitchel Forman
, plus
Bob Sheppard
(saxophone),
Ron Stout
(flugelhorn),
Pat Kelley
(guitar),
John Leftwich
(bass), and
Jake Reed
(drums). Vitello's is located at 4349 Tujunga Avenue, reservations: (818) 769-0905.
Reviews for
Unlikely Valentine
continue to pour in:
"Close your eyes and it could be Jon Hendricks, Mark Murphy or even, at a stretch, Mel Torme." –Bebop Spoken Here
"Ron's vocal sound brings depth and strength to this album and throughout he offers profound interpretations of the lyrics. Undoubtedly, this release places him in the front rank of male jazz singers around today." –Jazz Mostly
"Boustead kills on "Love Potion #9" and swings "Autumn Leaves" into a nosebleed. He may be best in the hard bop "Along Came Betty." ...it is time to hear more from Ron Boustead." –All About Jazz
With the release of
Unlikely Valentine
, Ron Boustead circles back to his musical roots, a journey that's taken 34 years after the release of his first straight-ahead, vocal jazz album. Since then, Boustead has produced three more CDs, adding a variety of musical styles to his repertoire, including smooth jazz, pop, and soul, but he felt it was now time to make another CD that reflected his evolving tastes and growth as an artist.
Unlikely Valentine
is a hip, swinging project that comprises a mix of original tunes, with lyrics by Boustead, and fresh takes on lesser-done standards.
Boustead, who was born and raised in the
Pittsburgh
area, has been a part of the Los Angeles jazz scene since the early 1980s. He's joined on this project by a Who's Who of the finest musicians in Southern California. Bill Cunliffe, who won a Grammy for Best Instrumental Arrangement, and Mitchel Forman, who has toured and recorded with jazz luminaries like
Stan Getz
,
Gerry Mulligan
,
Carla Bley
and many more, provide the arrangements and alternately accompany Boustead on piano, Rhodes, and Hammond B3. Boustead is also joined by the formidable Pat Kelley on acoustic and electric guitar, and a stellar horn section comprising Bob Sheppard on saxophones and flute,
Bob McChesney
on trombone, and Ron Stout on flugelhorn. Bassist John Leftwich and drummer Jake Reed complete the redoubtable rhythm section.
Boustead began performing and writing lyrics when he was just 16 and singing in a horn band around Pittsburgh and its environs. He honed his chops by taking voice lessons and studying bass, guitar, piano, and composition, eventually moving to Cincinnati where he continued singing and playing bass in a band. He was performing five nights a week when, in 1983, he caught the eye of a local jazz label who signed him on to record a vocal CD featuring lyrics he had written to tunes by the likes of
Chet Baker
,
Chick Corea
, and
Freddie Hubbard
. The record received national attention, and after spending a decade in Cincinnati, he and his wife moved to Los Angeles for greater music opportunities afforded by Southern California.
Boustead continued performing in
Los Angeles
, playing all the major clubs around at the time, but found opportunities were still limited for jazz artists, so he expanded his musical vocabulary by adding other musical styles to this repertoire. Over the years, he released three more CDs and learned a new trade. He became a top-notch mastering engineer, working at the legendary Precision Mastering where he cut CD and vinyl masters for artists like Prince, Rolling Stones, Seal, Kiss, R.E.M., and many more. After 15 years, Boustead started his own company, Resolution Mastering. With a solid reputation as a superb engineer with a musician's ear, he has gained a wide-ranging and loyal following worldwide.
Echoes of Mark Murphy, Boustead's biggest musical influence, can be heard throughout
Unlikely Valentine
. Boustead met Murphy in Cincinnati and had the opportunity to study and become friends with the vocal jazz master. According to Boustead, "I've always admired the way Mark could scat, but that's not my thing. What I truly appreciate is his phrasing and his ability to improvise on the melody and lyrics. He also had a commanding stage presence that drew the audience in and made his vocal talents that much more engaging." Murphy's influence on Boustead is apparent right from the opening tune, the title song "
Unlikely Valentine
." Cunliffe wrote the tune based on the changes to "My Funny Valentine." It appeared on one of his CDs under the title "Amusing Paramours." Boustead renamed the song, added lyrics and wrote a vocalese taken from a B3 solo that Cunliffe had previously recorded. The result is a swinging, bebop number reminiscent of Murphy's stylings.
When Boustead began conceptualizing the project, he decided he wanted the music to be upbeat and bebop-oriented, yet accessible to people who aren't necessarily hard core jazz fans. He also wanted the CD to be fun, so he included a few tunes far off the beaten track. He brought Leiber and Stoller's 1959 pop hit "Love Potion #9" to Cunliffe, who worked his magic and re-imagined the song as a 6/8 jazz waltz with a soul-jazz vibe. Boustead also updated some of the lyrics to "I Love My Wife," a fairly obscure tune by Cy Colemen and Michael Stewart from the eponymous Broadway show. Forman arranged the tune with the Rhodes and flugelhorn providing the primary colors. "I Won't Scat," with music by Bill Cantos and lyrics by Boustead, is a humorous statement about Boustead's refusal to scat because "that's what the band is for."
Boustead is a versatile artist who is adept at presenting a wide range of musical styles and emotional tones. His tune "Til Now," with music by Kelley, is a lovely samba which Boustead sings as a duet with Fabiana Passoni, a Brazilian singer who lives and performs in Northern California. Forman arranged "Autumn Leaves," the Johnny Mercer standard, as a mixed meter swinger with Boustead providing a hip vocalese based on a Chet Baker solo. Boustead is also heavily influenced by Lambert, Hendricks and Ross, and included "Along Came Betty" with witty lyrics by Jon Hendricks. Cunliffe's horn arrangement seems to dance around the melody sung by Boustead without ever stepping on his toes.
Unlikely Valentine
has echoes of bebop and cool, but is firmly rooted in modern jazz. Boustead is an inventive singer with an edgy, supple voice that can handle the double duty.
Visit Website | Purchase Tickets
For more information contact Mouthpiece Music.