Richard Sussman Quintet Performing at...
August 9, 2002
Trumpets
6 Depot Square M
ontclair, NJ
973-744-2600
8:30 - 1:00AM
August 10, 2002
One Station Plaza
38 N. Division St.
Peekskill, NY 10566
914.736.1053
9:00 - 12:00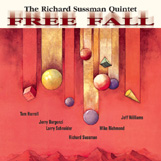 Richard Sussman Quintet features...
Richard Sussman - Piano, Scott Wendholt - Trumpet , Steve Slagle - Alto Sax, Mike Richmond - Bass, Jeff Williams - Drums,
When pianist/composer Richard Sussman's extraordinary debut album Free Fall was first released over 20 years ago, it quickly became a classic. Originally issued on Inner City Records, Free Fall not only received wide critical acclaim, but also served as inspiration to a generation of young musicians. The eminent educator David Baker even used it for many years at the University of Indiana as a prime example of contemporary jazz.
Unavailable since the demise of Inner City, Free Fall has been reissued by Double-Time Records and proves to be as stimulating, original and immediate as it was when first produced over two decades ago.
As a soloist, Sussman combines deft lyricism with a strikingly original harmonic sense and formidable technique, producing solos that are models of form and rhythmic intensity. His darkly probing solo on the title cut simply bursts with ideas, and he transforms the serene theme of The River into a mysterious, kaleidoscopic exploration of abstract harmonies during his sojourn through its currents.
In the years since Free Fall's initial release, Sussman has continued to distinguish himself as leader, sideman and educator. A member of the jazz faculty at the Manhattan School of Music since 1986, he
For more information contact All About Jazz.