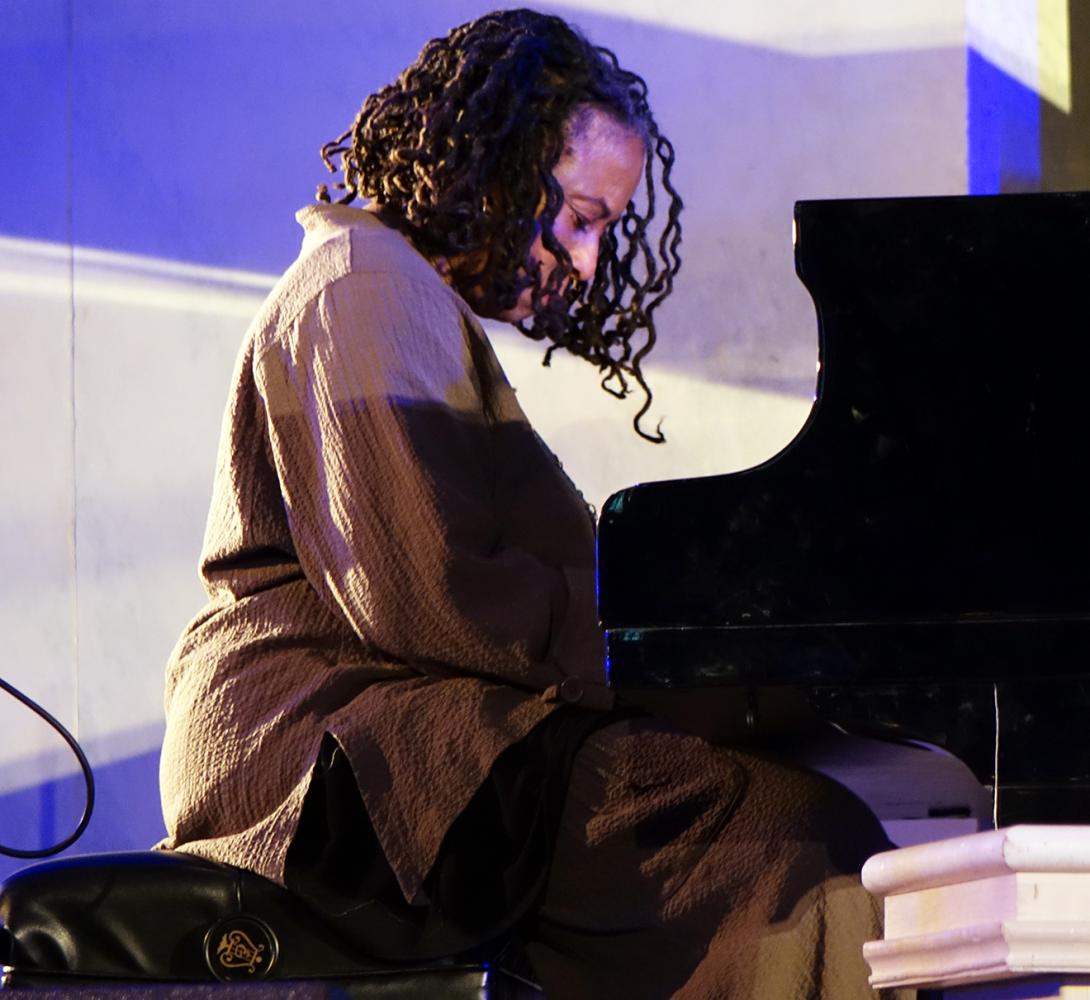 Grammy-nominated New Jersey Pianist Geri Allen To Serve As Artistic Director
New Jersey Performing Arts Center (NJPAC), in collaboration with Montclair State University will offer a new, All-Female Jazz Residency as part of NJPAC's arts education offerings. The residency will be led by Grammy-nominated New Jersey pianist
Geri Allen
, who will serve as the program's artistic director. Held on the campus of Montclair State University, the residency is a weeklong, program for students ages 14-22 from around the country.
The camp will present a unique blend of instruction and mentorship as students are taught improvisation, musicianship, jazz theory and more by Allen,
Tia Fuller
,
Marcus Belgrave
,
Nicole Mitchell
,
Linda May Han Oh
,
Carmen Lundy
,
Terri Lyne Carrington
, and some of the most respected jazz musicians in the industry. Students will also travel to a New York City jazz club to attend a performance by Allen and will perform on-stage in a final concert at the end of the program. Students must apply to take part in the program by video, and all videos must be submitted before May 1, 2014.
Vice-President for Arts Education, Laurie Carter said of the program, "NJPAC wants to help nurture and train the next generation of great female jazz artists. Through our partnership with Montclair State University, we are able to do that in a very focused way during the summer. In addition to learning core-musical competencies, these young women will also be surrounded by some of the best artists making music today which will enable them to learn the culture of being professional musician."
Applicants should prepare two contrasting songs from the list below: and each must be accompanied by either piano, guitar, bass or a rhythm section.
"Now's The Time" (F Blues) "The Theme" or "Anthropology" (Bb Rhythm Changes) "Lady Bird" or "Lazy Bird" "Four" or "Moment's Notice" "Embraceable You" or "Quasimoto" (Ballad) "Impressions" or "So What" (Modal) "Maiden Voyage" "Blue Bossa" or "Ceora" One Original Song of the applicant's choice
Applicants must submit an audition video in one of the ways mentioned below: a) Record it and mail a DVD to NJPAC: All Female Jazz Residency, NJPAC Center for Arts Education, One Center Street, Newark, NJ 07102. The DVD should have the applicant's name and content of the DVD. The DVD must be postmarked by May 1, 2014. b) Videos may be uploaded to the applicant's personal YouTube channel. After the upload, the link to the YouTube video should be emailed to:
[email protected]
Please list in the subject line: "YOUR NAME-JAZZ RESIDENCY AUDITION VIDEO"
Geri Allen, artistic director, is an award winning, Grammy-nominated, pianist/composer, Guggenheim Fellow, and Director of Jazz Studies at the University of Pittsburgh. The first recipient of the "Lady of Soul Award" for jazz, Allen was also the first woman, and youngest person to receive the Danish "Jazz Par Prize." Allen is a pianist/composer on Terri Lyne Carrington's Grammy-Winning "Mosaic Project" and performs with the collaborative trio featuring both Carrington and Esperanza Spalding. Allen also tours consistently with her Trio and Tap Quartet, Timeline.
For more information on audition and registration instructions please visit www.njpac.org or
[email protected]
Generous annual support for NJPAC Arts Education Programs is provided by: The Prudential Foundation, Victoria Foundation, Inc., ADP, The Star Ledger, PSEG Foundation, Merck Company Foundation, Anonymous, Wells Fargo, The Women's Association of NJPAC, McCrane Foundation, Inc., care Margrit McCrane, Surdna Foundation, Inc., John and Suzanne Willian/Goldman Sachs Gives, MCJ Amelior Foundation, The Johnny Mercer Foundation, BD, TD Charitable Foundation, Joan and Allen Bildner, Bloomberg, Jennifer A. Chalsty, The Coca Cola Foundation, Johnson & Johnson Family of Companies, Mary Pope Osborne, Panasonic Corporation of America, Ronald McDonald House Charities, Turrell Fund, PNC Foundation, John R. and Mary Kay Strangfeld, Atlantic Tomorrow's Office, Berkeley College, Judy and Brian Bedol, Rose Cali, Stewart and Judy Colton, Bonnie and Steve Holmes, Investors Bank, Meg and Howard Jacobs, Jacobs Levy Equity Management, Inc., NJM Insurance Group and NJM Bank, Novo Nordisk, Richard S. and Kayla L. Pechter, Sandy and Arnie Peinado, Reitman Industries, Marian and David Rocker, E. Franklin Robbins Charitable Trust, Susan and Tom Dunn, Archie Gottesman and Gary Debode, Veronica M. Goldberg, Mr. and Mrs. Leslie C. Quick, III, Jean & Kent R. Papson, and Provident Bank Foundation.
Each year NJPAC's Arts Education offerings reach over 60,000 students, families and educators through live performances, in-school residency programs and arts training classes. With a variety of offerings including NJPAC's Wells Fargo Jazz for Teens program and its new Brick City Jazz Orchestra, to school training programs that address the NJ Standards in the Arts, there is an offering for everyone. NJPAC Arts Education programs are made possible by the generosity of: Bank of America, The Arts Education Endowment Fund in Honor of Raymond G. Chambers, Leon & Toby Cooperman, The Horizon Foundation for New Jersey, Amy C. Liss, McCrane Foundation, Merck Company Foundation, Albert & Katharine Merck, The Prudential Foundation, The PSEG Foundation, David & Marian Rocker, The Sagner Family Foundation, The Star-Ledger/Samuel I. Newhouse Foundation, Surdna Foundation, Verizon, Victoria Foundation, Wachovia, a Wells Fargo Company and The Women's Association of NJPAC.
About NJPAC
New Jersey Performing Arts Center (NJPAC), located in downtown Newark, New Jersey, is among the largest performing arts centers in the United States. It is the artistic, cultural, educational and civic center of New Jersey — where great performances and events enhance and transform lives every day. As New Jersey's Town Square, NJPAC brings diverse communities together, providing access to all and showcasing the State's and the world's best artists, while acting as a leading catalyst in the revitalization of its home city. Through its extensive Arts Education programs, NJPAC is shaping the next generation of artists and arts enthusiasts. NJPAC has attracted over seven million visitors (including more than one million children) since opening its doors in 1997, and nurtures meaningful and lasting relationships with each of its constituents. Call 1-888-GO-NJPAC for more information.
This story appears courtesy of DL Media.
Copyright © 2021. All rights reserved.
For interview requests or more information contact DL Media.