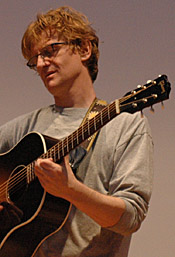 New Downloadable Format for Geoffrey Armes' Latest Musical Creation

The new release from Geoffrey Armes represents a number of 'firsts' for the UK born NYC/Berlin residing composer. Not only is it his first 'live' recording but it is the first he is offering for sale via download on his own GeoffreyArmes.com website.



He is also introducing a new concept of 'environmental music' where the sonics of a specific live environment are melded with subsequent overdubs and the imagined space of the listener. Using the source material and the sound of the room, as well as studio trickery he is able to make sound spaces complement, blend, and remain in context even as they speak with their own voices.



Aware of current listening and purchasing mores Armes has created a "circular series that can be approached from anywhere, any order, in keeping with modern day shuffle, itunes, playback and buying processes".





The basic rhythm tracks and concepts were all improvised in February 2009 whilst Armes accompanied "Movement for Actors" classes at the Neighborhood Playhouse Theatre in NYC, usually playing some combination of synth, piano, and handsonic simultaneously. Working on in his home studio the artist added extra instrumentation, sounds and found voices. The detailed yet spacious results particularly reward the listener using headphones.



An early review from Dan Herman of Radio Crystal Blue reads "One comes away from the listening and absorbing of Geoffrey's latest offering Hemisphere as though well-traveled in one's inner world….space-age technology combined with hallway voices, handclaps, blips, bleeps, smooth and sublime bass riffs, and a palette of sound that commands attention."



Downloads at http://www.geoffreyarmes.com/ga/cds/hemisphere/ come with pdf artwork designed by Rod Dodson, and it is possible to buy at various levels varying from individual tracks to complete collections including bonus material.
For more information contact All About Jazz.