One of the finest jazz trumpeters around today who began his career during the 1960s Blue Note period is Charles Tolliver. But his finest albums were recorded for Strata-East, a label he co-founded in 1970 with Stanley Cowell, and it's still around today.
—Marc Myers, JazzWax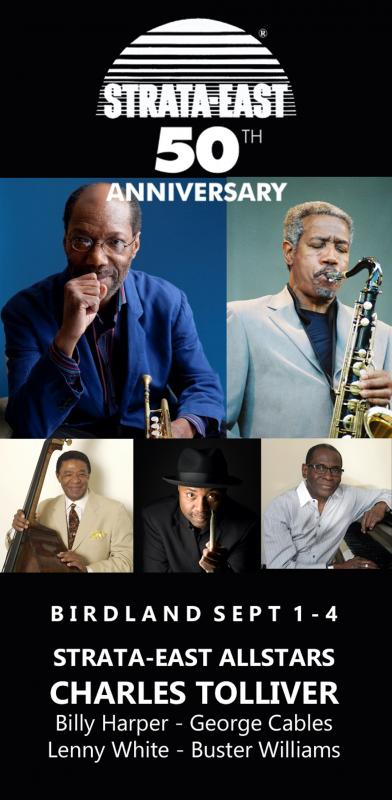 Strata-East Records @ 50 with Charles Tolliver & the Strata-East All Stars featuring
Billy Harper
,
George Cables
,
Buster Williams
,
Lenny White
AND guest screen star activist Danny Glover as narrator.
Due to unforeseen circumstances brought about by an emergency dental procedure for Charles requiring proper healing time which would extend past the original scheduled June 16 date, the show has been rescheduled. The livestream concert celebrating the 50th Anniversary of Strata-East Records with Charles Tolliver & the Strata-East All Stars featuring Billy Harper, George Cables, Buster Williams, Lenny White AND guest narrator Danny Glover is now rescheduled and will take place at the "Jazz Corner Of The World"
BIRDLAND
in Manhattan, New York City.
The Strata-East All Stars will perform nightly at Birdland from September 1-4, 2021, with 2 shows nightly, to a live audience culminating in the livestream on September 4th, presented by Pure Pleasure, to celebrate worldwide the 50th Anniversary of this history making artist-owned label.
We look forward to everybody, fans, and supporters in the vicinity of NYC joining in this historic celebration in-person live September 1-4, and fans, and supporters around the world joining in by purchasing tickets to the livestream which, as before, will be available for 48 hours worldwide to accommodate the different time zones.
For further questions please
contact us
.
Visit Website | Purchase Tickets
For more information contact Scott Thompson Public Relations.