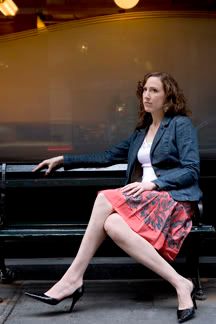 New York City-based vocalist and composer, Julie Hardy will perform at The Kitano on Thursday, February 28th sets at 8PM & 10PM.
One of the most distinctive voices among the growing ranks of female jazz singers in New York City belongs to Julie Hardy, whose appearance at The Kitano coincides with a new CD entitled The Wish. This is Julie's most fully realized recording to date and her first release through World Culture Music, an artist collective label and multi-faceted music company created by drummer/composer Kendrick Scott. Hardy has performed at the Diet Coke "Women in Jazz" Festival (Jazz at Lincoln Center), the Jazz Standard, Birdland in NYC and received a 2006 ASCAP Young Jazz Composers Award for her composition "No Turning Back."


The vocalist will be accompanied by a band of up and coming NYC jazz artists; Randy Ingram, piano; Edward Perez, bass; and Jared Schonig, drums.


Who: Julie Hardy Quartet: Randy Ingram, piano; Edward Perez, bass; and Jared Schonig, drums.
When: Thursday, February 28th, sets at 8PM & 10PM.
Where: The Kitano, Located: 66 Park Avenue (corner of 38th street) New York, NY 10016
Phone: 212 885 7119
Cost: No cover, $15 food/drink minimum
This story appears courtesy of All About Jazz.
Copyright © 2021. All rights reserved.
For interview requests or more information contact All About Jazz.