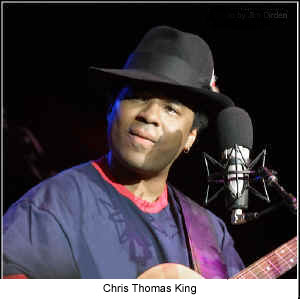 The Jazz Arts Group's Inside Track series welcomes Grammy Award-winning blues guitarist, composer and actor Chris Thomas King to the Lincoln Theatre stage Saturday, March 5 along with special guests The Floorwalkers.

Chris Thomas King came into his own while expanding on traditional musical horizons that were inherited from his father, Tabby Thomas. Born and bred in the Delta tradition, King's success as a bluesman was virtually guaranteed while he grew up among the finest blues musicians in the genre at his father's blues club and began touring with artists like Buddy Guy and B. B. King in his teens.

Initially known for his audacious fusion of blues and hip-hop, King reached a whole new audience starring in and scoring music for the Coen Brothers film O Brother, Where Art Thou?, not only appearing on the award-winning soundtrack, but establishing himself as a serious dramatic actor as well.

King has continued to act in and score motion pictures including the Academy Award-winning Ray. King has also written and recorded more than 150 songs that are in demand for license to motion pictures, documentaries and television programs. Most recently his music has been featured in the action-thriller The Mechanic. King is also featured as himself in the Smithsonian Channel documentary hosted by Oscar winner Morgan Freeman, Sound Revolution.

The forthcoming album, Sketches of Treme, is Chris Thomas King's first full-length studio album since the release of the Handy-nominated Rise in 2006, which dealt with the aftermath of Hurricane Katrina. "New Orleans is a city that lives and breathes in a way that most other American cities don't," reflects King. "I've been using New Orleans as a muse for years but this time it's influenced me in a different way." Sketches of Treme creates a fresh but ancient meditative groove syncopated by djembe and various percussions. These new original arrangements take Kings sound from his best known acoustic recordings like O Brother, Where Art Thou? and Down from the Mountain and cranks up the electric guitar with his power trio on several tracks.

Single tickets are on sale now for $25 (orchestra) and $30 (loge) and are available by phone at 614-469-0939 and through all Ticketmaster outlets. Student tickets are also available for $15 with student ID at the door only. Call 614-294-5200 or visit jazzartsgroup.org for more information.

Columbus Alive will host a post-concert happy hour event at Black Creek Bistro (51 Parsons Avenue in Olde Towne East) featuring dinner and drink specials including a signature drink created especially for the Chris Thomas King concert.

Before the concert, King will lead a workshop titled "Blues Roots" at the Jazz Academy where he will introduce the roots of blues and jazz, including New Orleans jazz and delta slide guitar. He will discuss and perform some early forms on acoustic guitar and harmonica, then connect those forms and rhythms with contemporary musical styles, including pop and hip-hop. The workshop begins at 2:00 p.m. and there will be lots of time at the end for questions and discussion. Admission for this workshop is free, however advance registration is required. Register via phone at 614-294-5200 x 107 or online at jazzartsgroup.org.

Additional Inside Track series highlights include Trombone Shorty & Orleans Avenue (April 3, 2011) and a retrospective of the cool jazz movement titled "Birth of the Cool" (April 29 & 30, 2011). Showtime is 8:00 p.m. for all concerts.

The Inside Track music series is presented by the Jazz Arts Group with media support from The Columbus Dispatch, Columbus Alive, CD101 and WCBE 90.5 FM.

About the Jazz Arts Group

The Jazz Arts Group of Columbus (JAG) is America's oldest not-for-profit arts organization dedicated to producing, performing and promoting jazz. JAG is the third largest performing arts organization in Columbus and consists of four focus areas: the Columbus Jazz Orchestra (CJO), one of the world's finest professional jazz orchestras; the Jazz Academy, JAG's extensive instructional programs educating both students and adults about jazz and American music; Inside Track, a new jazz and blues performance series produced at the historic Lincoln Theatre; and Affiliate Musicians, a program providing employment opportunities for professional musicians.