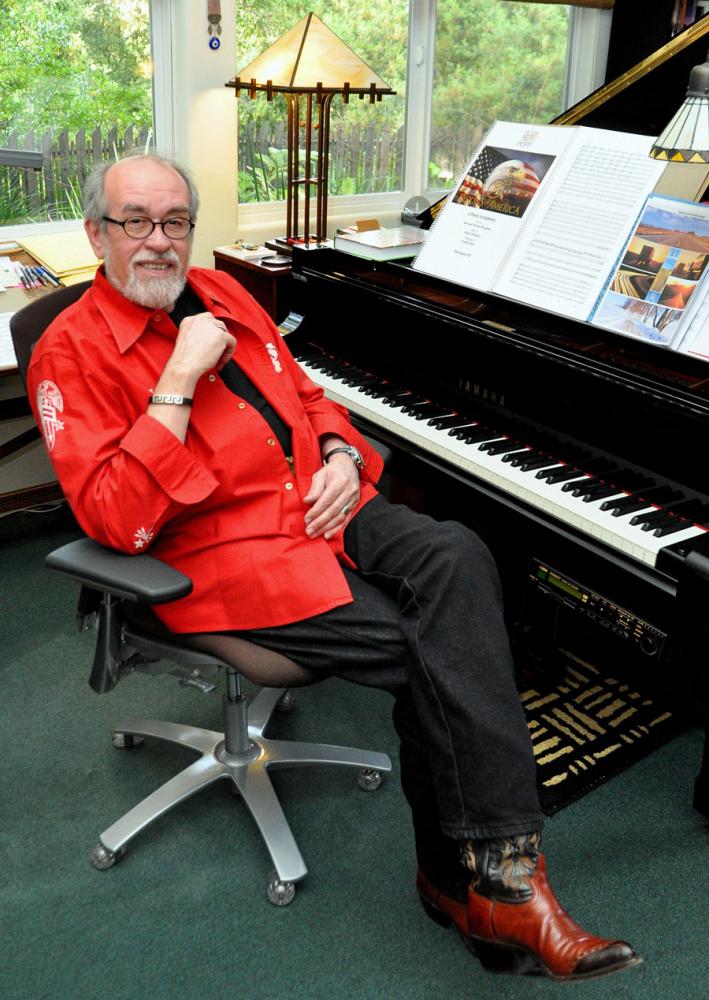 On Thursday, March 23, at 7:30 p.m., pianists Roger Kellaway and Peter Beets will be appearing together as a duet at New York's Sheen Center as part of producer Pat Philips'
Jazz on Bleecker Street
concert series. They will be performing
The Many Moods of McCartney.
For more information and to buy tickets,
go here
. The concert will be held at the Loreto Theater at 18 Bleecker St.
Here's
how the concept sounded with the Asheville Symphony at the Thomas Wolfe Theater in Asheville, N.C., in 2014.
Roger Kellaway, of course, is an international jazz treasure. He's probably best known for writing and playing the closing theme,
Remembering You,
for the TV sitcoms
All in the Family
, which ran from 1971 to 1979, and its spinoff
Archie Bunker's Place
(1979-1983). Few today can touch his technique. Dutch pianist Peter Beets also knows his way around a keyboard.
I recently caught up with Roger and had an opportunity to ask him a few questions:
JazzWax:
Did you set out to become a jazz pianist growing up in Massachusetts or did it just happen that way?
Roger Kellaway:
I began classical piano lessons at age 7. This continued until I was 18. However, around age 11, I discovered George Shearing's arrangement for
I'll Remember April
(1949).
For about two years, Shearing's
I'll Remember April
became my favorite performance piece, along with classical recitals. When I was 12, I decided that music would be my life's work, and my interest in jazz began to grow. Shearing was followed by pianists Billy Taylor and Oscar Peterson. Meanwhile, an interest in early jazz was forming. Fats Waller became my hero. So at this point, my musical world revolved around classical, early jazz (mostly Dixieland), modern jazz, big band music and symphonic works mostly by Bach and Stravinsky.
JW:
Your first album was with Mark Murphy in 1962. From a musician's standpoint, what made Murphy special?
RK:
I first met and played for Mark in 1961 at a New York club called The Showplace on 4th St and 6th Ave. in NY. I loved his fabulous "sound" and musicality. Also at this time, Mark was singing only the melody, which I missed in his later style. The album we recorded was pure joy.
JW:
How did
A Jazz Portrait of Roger Kellaway
, your first leadership album in 1964 come about, who owned Regina Records and, from your perspective, what made Jim Hall special?
RK:
Jack LaForge owned Regina. He did several of his own "piano" albums, but the pianist was really Don Sebesky. As for the first part of your question, Don called me, produced the album and arranged
Crazy She Calls Me
. I first heard Jim Hall when I was 17. It was at Storyville in Boston. The group was the Jimmy Giuffre 3, which blew my mind. I had to have him on my album. There was a simplicity and directness about Jim's "lines" that make him special. This is especially true with the Jimmy Giuffre 3 and on
Undercurrent
(1962) with Bill Evans.
JW:
What is your favorite album with Clark Terry and why?
RK:
I love two of them, actually:
Tonight
and
The Power of Positive Swinging
. Both were recorded with the Clark Terry/Bob Brookmeyer Quintet. Clark's happy personality—which always shows in his playing, whether he's on trumpet or flugelhorn or playing fours on both instruments.
JW:
Was Wes Montgomery tough to play with? And what stands out today about the
Going Out of My Head
session?
RK:
Actually, the
Bumpin'
album is foremost in my mind. Since Wes didn't read music, we rehearsed the quartet for four days before recording. Then Don Sebesky overdubbed the strings. Soon after, Wynton Kelly sent me to sub for him at the New York's Half Note with Wes, Paul Chambers and Jimmy Smith. The
Musty
track on
Bumpin'
shows how much fun Wes was to play with.
JW:
Sonny Rollins's
Alfie
remains one of the most poetic jazz movie soundtracks of the 1960s. What do you recall about the session?
RK:
Somewhere along the way while recording at Rudy Van Gelder's studio, Sonny suddenly stopped in the middle of his solo on
Transition Theme for Minor Blues.
So I jumped in for a second solo on this track. Every recording with [arranger] Oliver Nelson was packed with energy. Great music and a great friendship.
JW:
How did your two albums with Gene Lees come about?


RK:
Gene was my friend for 50 years, until he passed in 2010. We were fortunate to record two albums together. He was a "word and language" master in both English and French. I treasured our relationship. Jim was from Canada and I'm from New England, which made us simpatico. One of his best friends was Glenn Gould. Another was Oscar Peterson. We had the sonority of the piano in common. At one point, he was the editor of
Down Beat
magazine and a fanatical historian. He loved research. He loved different personalities—who they were, how they thought and how they played. His sense of language and how he chose words made him a very special lyricist on songs such as
Quiet Nights
.
JW:
You accompanied Bobby Darin. Did you like him, and what don't most people know about Darin today as an artist?
RK:
I did like him. I learned my stage-performance timing from Bobby and my previous boss, comedian Jack E. Leonard. Our best time together was when I arranged and conducted,
Bobby Darin Sings Dr. Doolittle
. Singers who are blessed with the ability to sing the American Songbook and swing cannot escape the influence of Bobby Darin. I include Lady Gaga and reference her duets with Tony Bennett as an example. One night, at the Troubadour in Los Angeles, "Bob Darin" was performing folk songs with just his guitar. He wore jeans and a jeans jacket and funky shoes with no laces. But when his shirtsleeve showed, it was monogrammed "BD." He thought about every detail of his life, but back then he hadn't quite made the whole transition to Bobby Darin yet.
JW:
Did you and pianist Jimmy Rowles know each other? If so, what's the nicest thing he said about your playing?
RK:
I never knew Jimmy well. But, I'd venture to say that if he did say something about my playing it would have been humorous!
JW:
Which four albums are you most proud of and why?
RK:
The Roger Kellaway Cello Quartet,
which featured all original music. It was a crossover music project with aspects of classical and jazz.
Memos From Paradise,
a date led by clarinetist Eddie Daniels. I won a Grammy for the album's original title suite.
Heroes
is my piano/guitar/bass trio tribute to Oscar Peterson, with my arrangements. It won the French Jazz Academy's Classic Jazz Prize.
Duke at the Roadhouse,
with Eddie Daniels, is a tribute to Duke Ellington. My arrangements for
Piano/Clarinet/Cello
won the Record of the Year award from the French Jazz Academy.
JazzWax clips: 
Here's
Come to the Meadow
from Roger's
Cello Quartet
album...
Here's
Up a Lazy River
from Roger's
Memos From Paradise
...
Here's
Roger with Mark Murphy in 1962 with Jim Hall on
Going to Chicago Blues
...
Here's
Roger with Jim Hall on
And Elsewhere
...
And
here's
Roger playing
Remembering You
in 1971 with Carroll O'Connor singing a lyric he wrote for Roger's closing theme to TV's
All in the Family
...
This story appears courtesy of JazzWax by Marc Myers.
Copyright © 2022. All rights reserved.