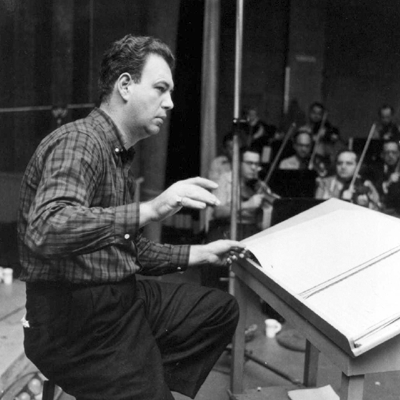 Arranger Nelson Riddle is most often associated with Frank Sinatra. Which makes sense, since Riddle scored a number of successful albums for Sinatra in the 1950s that sassed up the singer's swinging sound at Capitol. He did this with playful sectional riffs, unusual instrumental textures and bright solo tones added for punctuation. But where did Riddle's sound for Sinatra begin? Yesterday I took a look at Riddle's pre-Sinatra jazz discography for clues.

Here's Riddle's first known recorded arrangement for Charlie Spivak in 1941 on Prairieland Lullaby with Frank Howard on vocal. In the introduction, we hear Riddle's use of the celeste, an instrument he would employ often in the 1950s. In playful Riddle fasion, the celeste returns at the very end for the final note...

 

Here's Riddle's arrangement of I Surrender Dear for Spivak and the Stardusters (singers June Hutton, Glen Gaylord, Curt Purnell and Dick Wylden)...

 

Here's Riddle's arrangement of When the Sun Comes Out for Spivak in 1941, with Gary Stevens on vocal...

 

Here's Riddle's classic arrangement of the Nat King Cole hit Unforgettable in 1952. There's the celeste again in the intro, playing octave notes with the piano and base behind it...

 

Here's Riddle's swinging Almost Like Being In Love for Cole in 1953. Dig his writing for the aggressive trombones in the intro...

 

Here's Riddle's chart for This Can't Be Love, which was recorded by Cole in 1953 at the same session as the one above. Riddle's sound was established by this point, with different sections of the orchestra coming and going, creating a swinging gait...

 

Here's Riddle's arrangement of I Didn't Know What Time It Was a month later in '53 for Louis Jordan. Classic Riddle string writing here with trombones...

 

From the same session, here's Jordan singing on Riddle's arrangement of It's Better to Wait for Love. Catch how Riddle makes use of the Shearing sound in the beginning and in the break along with the reeds. Riddle would favor this approach as well as the song's outtro on Sinatra's Capitol recordings later in the decade...

 

Here's Riddle's famous arrangement of Love Turns Winter to Spring for the Four Freshmen in 1954. Dig the cascading strings on the front end and how the strings harmonize with the vocals throughout. Riddle adds only a bossy trombone solo by Freshman Bob Flanigan. And dig Joe Comfort's bass lines, with double-timed notes...

 

Here's singer-songwriter Bobby Troup, with Julie Is Her Name, arranged by Riddle in 1954. That's Julie, as in Julie London, Troup's vocalist wife. Dig the flute and strings in the introduction and Riddle's writing throughout, with the guitar playing off the strings in the break. Troup's sensitive-male croak is so classic. The outtro here also is lovely...

 

And finally, here's Keely Smith singing Riddle's arrangement of I Wish You Love in 1957. A choir is added at the start and then the orchestration features flutes, a harp and a trombone section teased by what sounds like a piccolo...


This story appears courtesy of JazzWax by Marc Myers.
Copyright © 2023. All rights reserved.