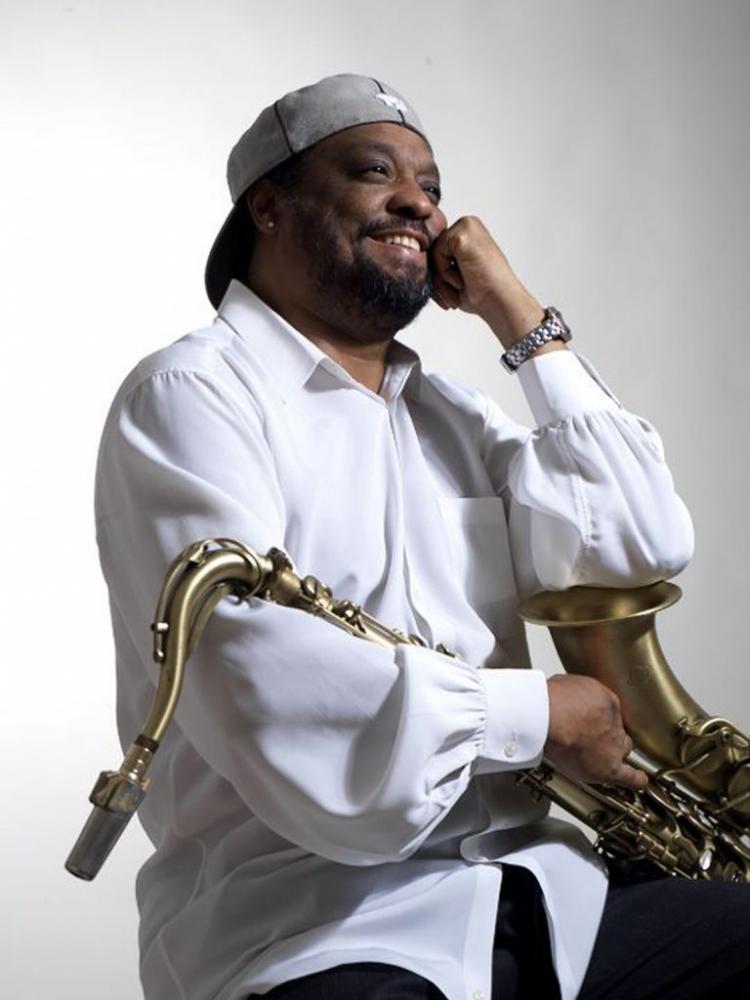 The
Ballard Jazz Festival
, Seattle's most anticipated and community oriented jazz event, will take place May 17-20, and will headline legendary saxophonist,
Chico Freeman
.
Dubbed three decades ago as one of the "young lions" of jazz for his participation in recordings with other "stars to be," such as
Wynton Marsalis
,
Kevin Eubanks
, and
Paquito D'Rivera
, Freeman's career has established him as one of the true modern masters of the saxophone, and jazz composition. Freeman will be featured at the festival finale, saturday evening's Mainstage Concert, and will be accompanied by the
George Colligan
Trio, featuring Seattle born and bred musicians
Matt Jorgensen
, and
Evan Flory-Barnes
. Opening for Mr. Freeman will be Scenes, the transcendent guitar trio featuring
John Stowell
, iconic bassist
Jeff Johnson
, and drummer
John Bishop
. For this performance they will be joined by
Rick Mandyck
, a Seattle saxophone legend who after a fourteen year absence, is making his presence felt on the local scene
Spanning four days in the historic Ballard neighborhood, the festival has maintained its community feel throughout it's history, this year celebrating its 15th edition. Each year, the festival attracts national and international talent surrounded by the best of the
Seattle
jazz scene. "I want to make sure it's a local festival, so it sounds like Seattle," says festival organizer and Seattle jazz impresario John Bishop, "It will be a celebration of that." Each year, rather than simply bring in marquee talent from around the country, national talent is paired with northwest musicians, creating a great opportunity for musicians and fans alike to mingle. This is rooted in the awareness of what makes a jazz scene vital, whether at the festival, or in clubs throughout the year, that "the hang" is essential, and creates a vibe that is compelling and welcoming. Promoted and staged by Origin Records, the Seattle jazz label operated by drummers Bishop and Matt Jorgensen, this year's event also celebrates the 20th anniversary of the highly regarded label.
The festival celebrates the multiple musical crosscurrents that constitute the Seattle jazz community, mixing traditional and cutting edge elements. For example, during Friday evening's jazz walk, within two blocks one can experience the experimentalism of the Tables and Chairs showcase, premier jazz vocalists such as
Greta Matassa
and
Gail Pettis
, and brilliant Spanish pianist
Marina Albero
. This multiplicity of sounds that together form this music we call jazz, is displayed prominently throughout the four day event.
The first two nights of the festival are staged at the Conor Byrne Pub on Ballard Avenue. The Wednesday night opener, Brotherhood of the Drum, features ensembles lead by some of the most innovative drummers in modern jazz. This year features Portland based drummer
Gary Hobbs
, a jazz veteran who has throughout the years performed with the Stan Kenton Orchestra,
Randy Brecker
,
Eddie Harris
, and
George Cables
among many others. Seattle's
Greg Williamson
shares the bill, bringing a jazz pedigree bred by touring and performing with such prominent artists as
Ernestine Anderson
,
Steve Allen
,
Red Kelly
and
Ray Brown
. In keeping with the theme of progressive diversity and inclusiveness, drummer
Christopher Icasiano
will perform with saxophonist
Neil Welch
, in the eclectic modern jazz duo, Bad Luck. Known for pushing boundaries with fearless improvisation, the band has produced four albums, displaying an amazing array of sounds, and a musical language all their own.
Thursday night brings the Guitar Summit, a gathering of guitar led bands at historic Conor Byrne, formerly, The Owl Cafe. Guitarist and composer
Brad Shepik
headlines, featuring a performance resume that includes
Charlie Haden
's Liberation Orchestra,
Carla Bley
,
Paul Motian
and
Dave Douglas
. He has recorded nine albums as a leader, and is an esteemed jazz educator as well. Also on the bill is
Dan Balmer
, long considered one of the top guitarists in the northwest. Balmer has performed with
Diane Schuur
,
Benny Green
,
Joey DeFrancesco
, and
Bill Mays
, and is a frequent performer on the local scene. Opening will be
Cole Schuster
, who has become a prominent voice on the Seattle jazz scene, performing with his band, 200 Trio. His versatility and chops have been utilized by multiple performers throughout the region, and his ascendent profile is gaining visibility throughout the city as a go to performer in sessions, and onstage alike.
The Ballard Jazz Walk on Friday night turns Ballard Avenue into Bourbon St. for an evening, where for a single price, you can take in 17 artists in 9 venues. This event is where the Ballard Jazz Festival was born, and in many ways, is the heart and soul of the festival. Here, community is celebrated, the Seattle jazz scene is united in one celebratory evening. The diversity of sounds and styles that happen throughout the year are able to congregate in one spot, creating a wonderful night of music, and a fellowship of performer and patron alike. This year features The Origin Uber Band, led by drummer John Bishop, The George Colligan Trio, sensational Spanish pianist Marina Albero, a reunion of Matt Jorgensen +451, premier vocalists Greta Matassa and Gail Pettis, The Hammond B-3 Soul Review featuring
Delvon Lamarr
, Happy Orchestra,
Bill Anschell
,
Jay Thomas
,
Phil Parisot
, and more.
The Mainstage Concert Saturday night, caps the event at the Nordic Heritage Museum, featuring the aforementioned Mr. Freeman. In surrounding him with the great Portland based pianist, George Colligan, and top tier Seattle musicians Evan Flory-Barnes (bass), and Matt Jorgensen (drums), the festival maintains a Seattle tradition rooted in the history of such legendary city jazz clubs as the Black and Tan, The Penthouse Jazz Club, Parnell's, and Jazz Alley, when it was a small bistro in the University district. In many ways, the Seattle jazz scene is a hidden gem, tucked away in the northwest, waiting to be discovered and rediscovered by touring jazz giants, and the elite jazz audience that assembles each year for this Seattle rite of spring. Patrons new to jazz are able to sample a colorful array of jazz artists they can then seek out and enjoy throughout the year at such venues as
Tula's
, The Royal Room, Egan's, and Nectar. The Ballard Jazz Festival is about community, it's roots embedded deep in the Seattle jazz tradition. What began as a jazz walk with five venues, has grown to become a much anticipated annual celebration of Seattle's jazz heritage.
For a full schedule, see the festival website below.