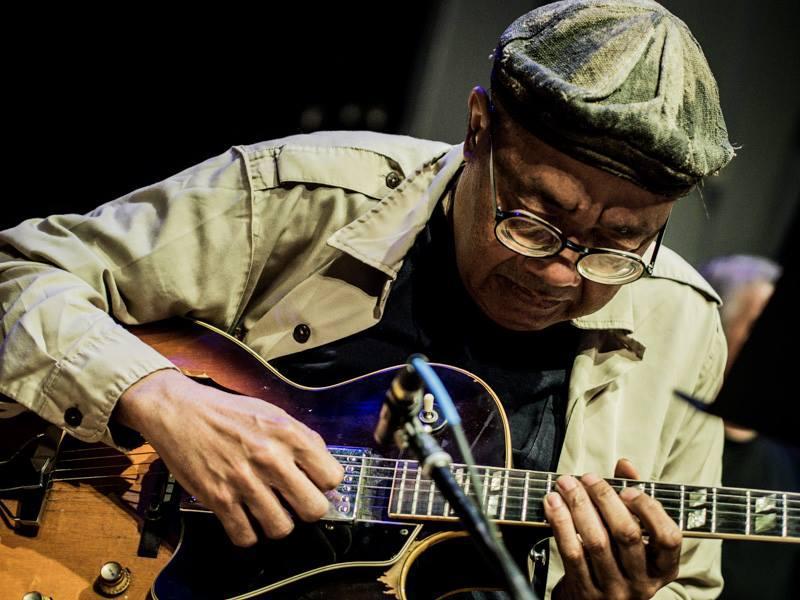 Evolving Music in March from Arts for Art and Vision Festival opens the lion and lamb month and unfolds over the course of four days from March first to the fourth. involving Friday & Saturday nights, a Sunday afternoon family friendly adventure to let the kids do live action drawing and a concluding Monday evening Evolution.
It's all for the purpose of showcasing the best un-compromised avantjazz in NYC.
Among those featured will include the
Bern Nix
Quartet,the Blood Trio,
Joe McPhee
Solo, and a
Charles Gayle
Trio.
Sunday afternoon meets
Kyoko Kitamura
's Moving Music Ensemble &
Jessica Jones
Quartet in a thoughtfully imagined sonic adventure to spark the creative imagination of the young with options to draw.
Monday Evolved involves the
Stephen Gauci
Quartet, 4 Women With an Ax to Grind and the
Yuko Fujiyama
Trio.
Friday March 1st, 2013
8:00PM - 9:15PM - Bern Nix Quartet
Bern Nix on guitar with
Francois Grillot
covering bass, a
Matt Lavelle
trumpet excursion and the drums of
Reggie Sylvester
.
9:30PM - 10:30PM - Blood Trio.
Sabir Mateen
working reeds and sax is joined by
Michael Bisio
at the bass and
Whit Dickey
on drums.
Saturday March 2nd, 2013.
8:00PM - 9:00PM - Joe McPhee Solo
Joe McPhee will attend to the trumpet.
9:30PM - 10:30PM - Charles Gayle Trio
Charles Gayle wields tenor & bass sax with
Larry Roland
leaning in to a bass and
Michael TA Thompson
in command of the drums.
Sunday March 3rd, 2013.
2:00PM - 3:00PM - Kyoko Kitamura's Moving Music Ensemble.
Khabu Doug Young
awakens a guitar and a ukulele with
Andrew Drury
coaxing drums and percussion as Kyoko Kitamura lifts a longing lingering voice with other instruments readily at hand to employ as the moment suggests.
3:00PM - 4:00PM - Jessica Jones Quartet
Jessica Jones joins
Tony Jones
for a tenor sax duo element accompanied by
Rene Hart
on bass and a drummer to be named.
Children equipped withdrawing materials to stoke imaginations will be a welcome part of this afternoon concert..
Monday March 4th, 2013
7:30PM - 8:30PM - Stephen Gauci Quartet
Stephen Gauci brings a tenor sax and compositions to the table with a helping from
Nick Demopoulos
serving up a Smomid (String Modeling Midi Device) with ample stirring from
Adam Lane
with a bass and the drums of
Jeremy Carlstedt
.
8:30PM - 9:30PM - 4 Women with an Ax to Grind
Patricia Nicholson hones voice and dance to its keen edge brought to a further gleam with a well stropped piano applied by
Kris Davis
, meticulous slices from a
Jean Cook
violin and sturdy
TIffany Chang
drum chops.
9:30PM - 10:30PM - Yuko Fujiyama Trio
Yuko Fujiyama's piano closes out this fine run of moments with Newman Taylor Baker providing drums and Jennifer Choi offering violin.
Let this be your gateway to a beckoning spring.
And it all can be found at:
Clemente Soto Velez - Educational & Cultural Center 107 Suffolk Street New York, NY 10002 212-228-9874 Door (per day): $11 for 1 set / $16 : 2 set / $20 : All Night Students & Seniors: students $8 / $12 / $18