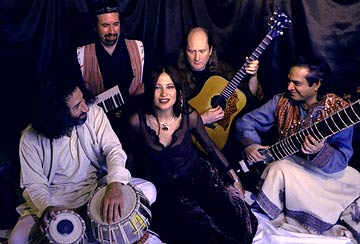 Halanda Studio Presents Ancient Future In Concert Celtic Raga Program

Featuring Matthew Montfort (scalloped fretboard and fretless guitars) and Ferhan Qureshi (tabla)
Saturday, May 11, 7 pm
Halanda Studio for Dance and Fitness
1062 Lincoln Avenue
San Jose, CA 95125
Registration: $20 in advance through
Halanda Studio PayPal
, $25 at the door. Info: 408-246-1129 or 408-369-1304
Celtic
(kel'tik), adj. of the Celts, their Indo-European languages, culture, etc.
raga
(räg'a), n. [Hind.] a melodic recipe for a mood including ascending and descending note patterns and a hierarchy of note importance
Strains of jazz, ancient Celtic music and Indian raga emanate from this high energy improvisatory duet featuring world guitar pioneer Matthew Montfort accompanied by Ferhan Qureshi on tabla. One of the variations of the virtuoso world fusion music ensemble, Ancient Future, this duet has performed in a variety of settings, from the huge audience (police estimate of 35,000 people) at the Summer of Love 30th Anniversary Celebration in San Francisco, to a standing room only three hour bar gig in Southern Oregon, to the Festival Internacional de la Guitarra on the golden coast of Spain near Barcelona.
"It was heart-warming to see teenage girls in swirling dresses swaying and twirling to the Indian themes (almost like morning ragas) of Ancient Future, one of the morning performing groups."—Philip Elwood, SAN FRANCISCO EXAMINER (review of Summer of Love performance, that according to the San Francisco Chronicle, was famed concert promoter Chet Helm's "crowning achievement")
Matthew Montfort
The leader of the world music group Ancient Future, Matthew Montfort, released his first solo recording,
Seven Serenades for Scalloped Fretboard Guitar,
in 2009. He is a pioneer among guitarists who have had their fretboards scalloped in order to play various forms of world music that require intricate note-bending ornaments while still being able to play chords. Montfort immersed himself in an intensive study with vina master K.S. Subramanian in order to fully apply the South Indian gamaka (note-bending) techniques to the guitar. He is recognized as one of the world's
100 Greatest Acoustic Guitarists
by DigitalDreamDoor.com, a curated "best of" site, along with such luminaries as Michael Hedges, Leo Kottke, Chet Atkins, John Fahey, Merle Travis, John Renbourn, Tommy Emmanuel, Doc Watson, Pierre Bensusan, Alex De Grassi, and Peppino D'Agostino. The December 2009 Les Paul issue of
Guitar Player Magazine
includes a full page feature on Matthew Montfort with a corresponding GuitarPlayer.Com video and lesson entitled "The Music of Jimi Hendrix Applied to Indian Raga." He has performed concerts worldwide, from the Festival Internacional de la Guitarra on the golden coast of Spain to the Festival of India in Mumbai. He has performed live on national radio and TV shows such as the Echoes Living Room Concerts on Public Radio International, and the
Rachel Maddow Show
on MSNBC. He has worked with many world music legends, including tabla phenomenon Zakir Hussain and Chinese zither master Zhao Hui. Montfort wrote the book
Ancient Traditions – Future Possibilities: Rhythmic Training Through the Traditions of Africa, Bali, and India
, which has been used by many musicians to improve their rhythm skills.
Ferhan Najeeb Qureshi (tabla)
Ferhan Najeeb Qureshi is a senior disciple of the legendary tabla master Ustad Tari Khan. Prior to his ongoing training with Ustad Tari Khan, Ferhan took his initial lessons in Hindustani (North Indian classical) music theory and practice with Surinder Singh Mann. Ferhan studies the Punjab gharana (school) of classical tabla which both of his teachers represent. In addition to performing tabla lehara (tabla solo), Ferhan Qureshi has also accompanied numerous distinguished classical artists (vocalists, instrumentalists and dancers) both in the United States and in Pakistan.