Joshua Bayer: New Voice: Old Voice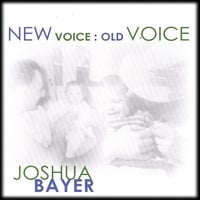 A couple of alto saxophones, wailing sweet and lovely on Charles Mingus' "Nostalgia in Times Square," open up Washington, DC-based bassist Joshua Bayer's
New Voice: Old Voice
. The rhythm section—Bayer, drummer Luther Gray and keyboardist Bob Sykes—inject a propulsive light touch into the swing; Sykes' Fender Rhodes floats in with a vibraphone-like sound.
Bayer's last effort, the fine
Lines and Grooves
(JazzHeads, '03), was—with the exception of Gershwin's "Prelude"—an all-original quartet outing that paid tribute to a short list of jazz greats. The crisp, swinging affair featured saxophonist Marty Nau out front. For
New Voice: Old Voice
, the quartet remains the same, with the additon of Lyle Link on alto sax.
Half of the tunes showcase Bayer's compostional talents. The bassist/composer wields an ebullient pen, crafting upbeat, bright tunes remiscent of the Dave Brubeck or Vince Guaraldi approach—though the Brubeck feeling may come as much from the Paul Desmond "sound of a dry martini" mode that altoists Nau and Link employ. In additon to the Mingus opener, the covers include Vince Guaraldi's "Skating," Sam Rivers' "Beatrice," Scott Joplin's "Bethena's Bridge" and Jerry Bock's "Matchmaker Matchmaker."

Like Bayer's last effort, New Voice: Old Voice presents his clean, swinging, straight-ahead approach to jazz. This fresh-sounding, forward-looking disc advances a step with the addition of Lyle Link on alto.
Track Listing
Nostalgia in Times Square; Skating; Off Kilter; Matchmaker Matchmaker; New Voice; Society's Blue; Beatrice; Bethena's Bridge; Bounce; Old Voice.
Personnel
Joshua Bayer: bass; Bob Sykes: piano and rhodes; Marty Nau: saxophone; Lyle Link: saxophone; Luther Gray: drums.
Album information
Title: New Voice: Old Voice | Year Released: 2006 | Record Label: Self Produced
Post a comment about this album