Nate Wooley: Wrong Shape to be a Story Teller: Blue Collar; Lovely Hazel
Trumpeter Jeremy Pelt has, in these very pages, called into question the legitimacy of jazz criticism, suggesting this line of work is merely an excercise in egocentric exhibitionism and control freakishness. Well, he may have a point, but not every jazz critic is charged with the formidable task of absorbing and attempting to come up with intelligent commentary on the maddeningly challenging music of artists like Nate Wooley, Steve Swell and Tatsuya Nakatani. Only a bonehead would toss off a casual review, irrespective of his/her opinion of the stuff, as if this fiercely uncompromising work were just any post-bop rehash or half-baked melange of jazz and every other conceivable style.
Nate Wooley
Wrong Shape to be a Storyteller
Creative Sources
2005
Wooley's solo effort, appearing on one of the suddenly ubiquitous Portuguese jazz labels, willfully defies categorization. The hackneyed, noncommittal term "experimental is the best one can manage. Since music that dares to do this usually gets tossed in the jazz section by default, one must suppress any misgivings about reviewing it in a publication which features the hoary, cagey appelation on its very masthead. Wooley has an adimirably checkered past as a player. If you went to three of his gigs in one week you'd be likely to hear anything from more-or-less straight jazz to as-far-out-as-it-gets improv and all of it would probably be first-rate. For a youngish man, Wooley has a disturbingly mature engagement with his art and enviable poise in performance. If he's the least bit worried about how some of his more outré stuff is being received it doesn't show. Wrong Shape to be a Story Teller is a home recording, warts and all. You can hear his searching mind in its domain - a situation that must have made for more uninhibited freedom of movement than any studio environment could provide. The recording is more catalog of sound experiments than book of tunes. The average listener would unlikely persevere beyond the first minute or two of the disc's one long track. Only the fearlessly curious should approach this record.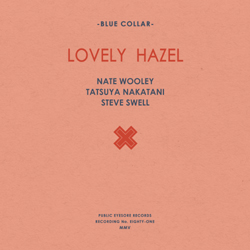 Blue Collar
Lovely Hazel
Public Eyesore
2005
Blue Collar is experimental jazz' power trio. Wooley teams up with two of the finest musicians to be found in any style - the peerless trombonist Steve Swell and Tatsuya Nakatani, a dazzlingly innovative percussionist - and the result is smart and winsome chaos. Here, Wooley's expanding quiver of sounds is profoundly multiplied by those of his veteran comrades. Lovely Hazel seems almost easy listening after Wooley's solo disc, but a similar caveat applies: it's not for the sweet of tooth. You won't encounter anything further from top 40 pop, or more rewarding to your patience.
Wrong Shape to be a Storyteller

Personnel: Nate Wooley: trumpet
Lovely Hazel
Tracks: 48/1; 61; 110; 76; 74; 47; 31/1; 30; 48/2

Personnel: Nate Wooley: Trumpet, Flugelhorn, Voice; Steve Swell: Trombone, Voice; Tatsuya Nakatani: Percussion
Post a comment