Dave Fleschner
After completing Willamette with a BA in English and a music minor, Dave moved to Portland, OR, where he still resides. He was a founding member of Groove Revelation, an ensemble dedicated to playing original music which toured California and the Pacific Northwest. In 1997, he received a Laurels Full tuition scholarship to Portland State University, where he studied with pianists Darrell Grant and Randy Porter, as well as with arranger Charles Gray. Before completing his Bachelor's of Music in Jazz Performance from PSU, Dave received an Outstanding Musicianship award for his performance at the University of Reno Jazz Festival.
Dave is now locally known as both a pianist and as a Hammond B-3 organ player and has continued to perform around the Pacific Northwest in a variety of styles. Dave has performed with Steve Miller, The Pointer Sisters, Curtis Salgado, Jimmie Vaughan, Taj Mahal, Robert Cray, Charlie Musselwhite, Kim Wilson, The Oregon Symphony, Jeff Tyzik, Charles Floyd, Mel Brown, Bobby Torres, Rob Scheps, John Gross, Warren Rand, Dan Balmer, Alan Jones, Carlton Jackson, Reinhardt Meltz, Paul Delay, Valerie Day, Duffy Bishop, Chris Mayther, Kathy Walker, Gary Burford, Monti Amundson and Margot Tufo. He has recently been involved in theatre, most notably for a revue of Patsy Cline music and for the Christmas themed "1944, A Christmas from Home." Dave also owns and operates a project studio out of his home, where he acts as both producer and engineer for his own projects and numerous others. He teaches lessons and classes through Ethos (a nonprofit music school) and the Multnomah Art Center.
Dave has been profiled in JazzScene, The Statesman Journal, The Oregonian, Willamette Week, The Portland Tribune, and is a frequent guest performer on Homegrown Jazz with Mary Burlingame, a live broadcast from KMHD, the Portland area jazz radio station. He was also featured on Pete Fallico's show "Doodlin' Lounge," on KUPL in Santa Cruz. His recorded performances and compositions can also be heard frequently on KMHD and on local cable access.
Discography: As a primary member or leader: Ben Fowler Quintet, Pilgrimige; 2005 Zuppa, Walk Funky; 2004 Dave Fleschner, At Home; 2004 The Dave Fleschner Trio, Just Like You; 2002 The Dave Fleschner Trio, Live at McPeet's; 2002 http://www.cdbaby.com/cd/fleschner Zuppa, Live at the Goodfoot; 2002 http://www.cdbaby.com/cd/zuppa Groove Revelation, Grindin'; 2000 Runs Good, As Is; 2000 Groove Revelation, The Arch Cape Sessions; 1997
As a sideman: Chris Mayther, Big Blue Eyed Soul; 2004 Deep Roots volumes I through VII; annually from May 1998 to 2004 http://www.deeproots.com/project.htm Young Lions of Zion, Your Sanctuary; 2003 The Vantucky Diamonds, Rock House; 2002 Northwest Foundations, Compilation; 2001 Jane Wright, Synergy; 2000 http://www.janewrightband.com/ Billy Hagen, You Should'a Been Pretty; 2002 Blake Woods and Monica's Dress, Safe in Heaven Dead; 2000 D. Mark Jackson, 3 Years On; 1999
Read more
Dave Fleschner has "a strong vision... Fleschner has more than demonstrated his abilities" —The Oregonian
Dave Fleschner, "...has his act wired tight, oozing soulful pulp all over the place." —John Chandler, Portland Tribune
Dave Fleschner plays "... With a vengeance and fury" —Bob Cooper, On-line Musicnet
Primary Instrument
Keyboards
Willing to teach
Intermediate to advanced
Credentials/Background
Bachelor's of Music in Jazz Performance from Portland State University
Recordings: As Leader | As Sideperson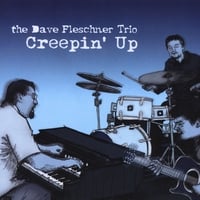 Fleschtone Records
2010
buy