Mr. Dorgon: Genius or Charlatan?
On a less theoretical realm, the music heard on these featured releases, as well as others in Dorgon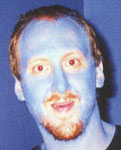 Gordon Knauer, known by the name Mr. Dorgon, states his maxim as "the concept of music is not predicated solely on the subdivision of quarter notes." It is this credo that guides his eleven self-produced records, as well as his work with others. Whether Dorgon is considered a genius or a charlatan, his releases demonstrate that he truly marches to the beat of his own drummer.
Outside of the music realm, two of Dorgon's non-musical items are rather entertaining, namely, his jewel case inserts and his keen sense of humor. First, each Dorgon's piece contains individually reproduced artwork. For instance, my copy of his record under the alter ego of DJ$Shot (that's DJ Moneyshot), a close inspection of insert reveals the residual pencil outlines for Dorgon's scissors. Another disc, Erection and Wreckage, uses purple duct tape as a sort of security seal. Then there's Dorgon's wit. Not only does he offer amusing song titles like "Yer A Fuckin' Jerk," "I Have Ornette's Teeth," and "I Want A Snack," but also, if one reads the enclosed "cover notes," one will find information such as the warning, "Please Consider Yer Relationship To Animals" or boasts like, "Dorgon attended the Lenox School of music with Ornette Coleman and Jimmy Giuffre also Dorgon performed in the Raymond Scott Big Band featuring Art Blakey on piano, he claimed to be blind but was really only very clumsy."


So, Dorgon has artistic and sidesplitting aspirations, but what about the music?
Dorgon has had the good fortune to collaborate with bassist extraordinaire William Parker on two occasions. For his meetings with Parker, Dorgon chooses a C-Melody saxophone exclusively, certainly an out of the ordinary instrument in this era (I couldn't imagine hearing Frankie Trambauer play like this). 9 , Dorgon's first encounter with Parker, consists of four extended duets. Throughout the performance, each musician floats on his own plane, but every once in awhile, they do manage to synchronize. The first track, "POG," begins with Dorgon blowing lengthy, droning lines that drift into nothingness, a frequent occurrence for Dorgon. Parker follows initially, but once the arco emerges, Parker takes control, bowing away with authority. "BTBB" is initiated by Parker's six-note ostinato with the last note buzzing mightily against the bridge. Dorgon eventually enters with darting staccato notes seemingly drawn out of air, flowing in a circular pattern that reminds one of connect the dots. Parker's sawing arco sets the tone on "Hardcore (Brooklyn)," creating a heavy thicket for Dorgon. As is typical, Dorgon is not in a hurry here, although he eventually wakes up and draws out some extreme sounds á la Zorn. Finally, Dorgon and Parker follow a similar process on "In Bloom," yet sound as if they are finally on the same page (perhaps due to the presence of written material). Parker again displays his mastery, while Dorgon fails to prove anything, much less that he is an interesting improviser. In fact, this record and those that follow demonstrate that not only are his solos dull and without focus, technically speaking, he proves to be a rather unskilled and amateurish musician.


Dorgon also works in duo settings with drummer Laura Cromwell on three records. Rats Live On No Evil Star is the pair's first recording together, with Dorgon choosing both saxophone and clarinet to interact with Cromwell's drum set. Like Dorgon, Cromwell demonstrates minimal technical skill. Her basic approach is to either strike seemingly random portions of her kit or to find mostly rockish patterns and ride them out for the majority of the performance. Dorgon again blows mostly drawn out, lethargic statements. The first track, "Zigaboo," is a good example of the record's basic goal, as Dorgon provides his signature statements over which Cromwell hits quarter, and then eighth note patterns on her toms and snare. Interestingly enough, while they consistently prove that there is no urgency whatsoever, they also never really get around to building tension to provide the listener with much to grasp. Another similar track, "Elmo Polish," is another example of an uneven, drum machine like groove. "For Jackson Pollack" does offer a glimmer of hope, with inviting blues-inspired brushwork by Cromwell, while Dorgon provides rather mundane improvisations. In other words, there is a similarity to these proceedings and a lack of depth that make this record rather boring. Overall, it is an entirely tedious experience where nothing ever really happens.


Dorgon has some fans from the downtown scene, which is evident by the participation of a cast of top-notch musicians on Dorgon Y Su Grupo . The recruits include guitarist/trombonist Curtis Hasselbring, accordion player Ted Reichman and vibraphonist Matt Moran. Given the quality of the supporting cast, this record fares a tad better than Dorgon's other work, however, the main complaint still persists - nothing ever happens and further, little evidence is provided to make anyone care. The album's opener, "Yer A Fuckin Jerk" is one of the more notable tracks, a spacious outing with Dorgon blowing his typically torpid lines, as Hasselbring and Reichman add otherworldly textural sounds. "R2D2" is another foray into Dorgonia, as Cromwell sets a maddeningly repetitive groove, over which the horns and accordions swirl in a simplistic, repetitive fashion. Perhaps the most interesting tracks of the disc are the five studies featuring the soloists without Dorgon. Matt Moran's moody, undulating vibes have a go on "Study #3," Hasselbring's buzzing trombone impels "Study #2", Reichman provides blasts of retro eeriness on "Study #7" and Hasselbring's "Study #1" features some prickly guitar musings. The disc ends with some extreme trio playing on "I Want A Snack," a churning mélange featuring Reichman's punchy accordion, Dorgon's quick, ear piercing clarinet blasts and Hasselbring's thorny guitar.
Thus, is Dorgon a brilliant genius? jokester? novelty act? or just full of shit? I, for one, am not certain and perhaps "artists" like Dorgon bring to mind larger issues of whether art's main goal is to challenge convention. On a less theoretical realm, the music heard on these featured releases, as well as others in Dorgon's canon, offer little in the form of serious harmonic or improvisatory development. They mostly prove to be tiresome and fail to give the listener much to chew on. Caveat emptor: you have been warned.



Dorgon + William Parker
9
POG / BTBB / Hardcore (Brooklyn) / In Bloom
Dorgon, C-Melody Saxophone; William Parker, Bass


Dorgon + Laura Cromwell
Rats Live On No Evil Star
Dorgon, saxophone, clarinet; Laura Cromwell, drums
Zigaboo / 11 Pointed Star / Elmo Polish / BTBB / Hardcore (Brooklyn) / Study #7 / Start / Going Away . . . . Hallelujah / Roscoe Stethoscope / For Jackson Pollack / For Tinky Winky / Limpy / . . . Barking Dogs / Drum Solo To Stink / Likembe / Strainer/Cockfight / Buzzo.Barbarella.By Nite / Fuzzy


Dorgon Y Su Grupo
Dorgon, saxophone, clarinet; Curtis Hasselbring, guitar, trombone; Ted Reichman, accordion; Laura Cromwell, d; Matt Moran, vibes
Yer A Fuckin Jerk / R2D2 / 11 Pointed Star / Crash + Burn / Hammer (4CM) / Study #3 / Study #5 / Study #2 / Study #7 / Study #1 / BTBB / I Want A Snack


Visit www.mrdorgon.com on the web.
Post a comment