Various Artists: Modern Wild Dub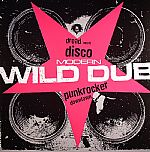 Modern Wild Dub
begs attention from the get-go, which is basically good for a collection that aims for positive energy on the dance floor. Subtitled "Dread Meets Disco Punkrocker Downtown," this record leaves the door wide open to a collection of styles. Unfortunately I don't recognize most of the artists on the record, so this review will mostly focus on the music itself. The collection of tracks here is going to both please and upset, depending on your tastes and interests. It's a mixed bag.
The motivation behind what has now turned into a series of two is that punk and dub share more connections than may be immediately obvious beyond a casual perusal of The Clash. The reggae/punk connections that developed in the UK in the late '70s have left a longer legacy in underground circles than they did on the charts. Modern Wild Dub is most emphatically an underground show, infected with the spirit of the now.


Colder's opening "One Night In Tokyo" launches from vocal samples to full-on reverberant dub textures, Marc Tans projecting a thoroughly Euro sense of loneliness. (It is, of course, mandatory to open a collection such as this with something solid.) The brightest disco shows up in the form of !!! (yes, that's the group and not an exclamation per se), echoing, thoroughly punked-out vocals tossed in with lots of clappable beats. Berlin's funked-up Chicks On Speed ask "What are words worth?" before surrendering to a kraut-rocking groove on a remix of "Wordy Rappinghood."


A couple of sagging tracks appear midway through the record. Optimo's remix of James White's "Contort Yourself," for example, pushes a bass-driven groove way too far without enough variety in the mix. But Radio 4's "Struggle" steps forward rough and tough, never letting go of its crocodile grip, a tribute to Mark Stewart and Adrian Sherwood's so-called "Mutant Disco Mix." More like punk rock, if you ask me; this summit of sorts between two producers with an ear for the edge may be difficult listening, but you can dance to it just fine. Some times that's enough.
Track Listing
1. One Night In Tokyo - Colder (06:19); 2. Surface To Air - Playgroup (4:58); 3. UK Decay - Big Two Hundred (3:50); 4. Me & Giuliani Down By The School Yard (A True Story) - !!! (9:02); 5. Wordy Rappinghood (Playgroup Rmx) - Chicks On Speed (5:20); 6. Beat Connection (Extended Disco Dub) - Lcd Soundsystem (7:50) 7. Contort Yourself (Optimo Mix) - Twitch (6:48); 8. Struggle (Mutant Disco Mix) - Radio 4 (6:48); 9. Hominid Hump - Outhud (4:00); 10. Babylon's Burning (Kid Loco's Strictly For Rockers Rmx) - The Ruts (3:14); 11. Boil In The Bag - Chicken Lips (4:50); 12. Pipe Bombs - Radio 4 (6:19); 13. Je Me Mentis - G.Rizo (4:25).
Personnel
Various Artists: various.
Album information
Title: Modern Wild Dub | Year Released: 2004 | Record Label: Select Cuts
Post a comment about this album