What's New by Charles Gayle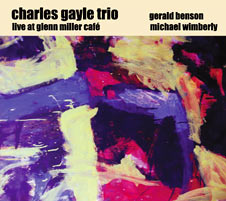 Buy Album
From the album
Album Title: Live at Glenn Miller Cafe
Label: Ayler Records
Released: 0
Listen
Broken link? Report it to us
About the Album
Charles Gayle once said in an interview that you ought to make some sort of a statement with your music once you have the opportunity. And this trio, with long-time Gayle compatriot Michael Wimberly on drums and Gerald Benson on bass, sure makes a vigorous statement with this live recording from Glenn Miller Cafe in Stockholm.
And not only one: each piece on this CD, whether it is a standard or a Gayle original, is a deep, fully explored statement, a take on a musical be-wilderness, deeply based in tradition, but always ahead of it somehow. On Whats New bassist Gerald Benson gives us a hint of the soft drive he is capable of, always listening, always there, and Michael Wimberly shakes his drums with his brushes and with interpunction always accurate and blindfoldedly precise on which Gayle floats on a somehow new world tonality, with beautiful lines coming in from a solid Afro-American background (as if music should care about its background), but pointing towards unprotected and fragile areas where sound and life has to co-operate in order to survive.
This trio recording is an extraordinary thing, a blended masterpiece, quickly losing track of its originators Gayle, Wimberly and Benson, starting to live a life of its own, which might be the intention. Magic with sky-grounded performance--so clearly shown on this CD. From Martin Kuchens liner notes
Recorded live at Glenn Miller Cafe, Stockholm, Sweden, on February 12, 2006.
Charles Gayle - alto saxophone; Gerald Benson bass; Michael Wimberly drums.
Personnel
Date featured
January 16, 2007
This song appears by permission of the contributing artist and/or record company.
It is for personal use only; no other rights are granted or implied.