Massimo: Massimo: Mind Over Matter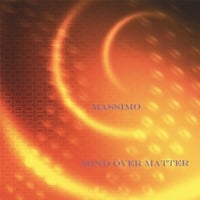 Massimo
Mind Over Matter
Masfusion Productions
2006
It's always exciting to uncover a surprising new talent—the kid who comes out of nowhere. Hailing from Philly by way of Italy, Massimo DeAngelis (who prefers to be known as "Massimo"), at 40-plus no young kid perhaps, arrives as prog-fusion drumming's newest gun on the block. He's also, simultaneously, a seasoned veteran capable of stepping into any drum chair that may become vacant—from, for example, the one in Dream Theater, to any number of mainstream jazzers, such as John Swana.
That unlikely segue is meant to trumpet the presence of Swana, one of jazz's most proficiently gifted horn men, here mostly playing the Electronic Valve Instrument (EVI) for trumpeters by Nile Steiner, using electronic patches rendering its "trumpet" genesis all but unrecognizable. Throughout, Swana shows he's a premier stylist on the synth-horn, rivaling the chops of the EVI saxophonist, Steve Tavagione or the atmospherics of electronica trumpynthesist, Ben Neill.
We also have electric five-string bassist Chico Huff, bearing an impressive resume that lately includes notable performances on high energy recordings by two Philly guitar masters: the post-Hendrixian, Jef Lee Johnson and post-Holdsworthian, Scott McGill. Huff's extra-jazz credentials include not only pop icons James Taylor and Carly Simon, but also what many critics regard as the most virtuosic Irish traditional band in the world, Solas. All this indicates that Huff has huge ears, capacious musical acumen and chops that go for days.


The same goes for the session's most unlikely participant, fellow Philly paisan and guitar institution, Steve Giordano, who possesses a bop-dominated discography including sessions with Trudy Pitts and Willis Jackson running two decades deep into the Muse catalog.
As with many debuts, a thorough examination of the first song unveils the aesthetic at work on the remainder of the maiden voyage. Turn up "Mind Over Matter" (to eleven) to hear Swana playing his version of Corea-esque lead Arp lines. These state the theme over Massimo's synth pads (yes, he plays keyboards too) over his own super-busy drums, which interweave and lock with the melody line.
All of this combines to evoke "Hymn Of Seventh Galaxy" period Return To Forever. Huff's bass enters well into the tune, helping us catch a breath before Swana's solo gradually spirals forward in snippets, until his longer passages sweep us away. Giordano's squeaky clean bop lyricism is somehow incorporated seamlessly into this super-high energy electric fantasy, into which Massimo drops Colaiuta-esque bombs, flurries and accents everywhere (perhaps because his synth has suddenly dropped from the atmosphere). Be sure to check out Massimo's prodigious one-second splay between Giordano's single line and chord solo, before he takes his own rousing synth-propelled bridge out of the solo section for a monstrous display on the kit.


The whole session, steeped in surrealist prog soundscapes, was conceived, recorded, mixed and mastered by Massimo, who proves an adept keyboardist and synthesist. But it's his drums that astound, with the kit following the melodic contour throughout, in the manner of Terry Bozzio. Most of the session has the potential to melt your rig, like "Stacked," which features Huff just going off into blistering territory that includes searing 64th note lines, super-clean octave runs and double-stopped madness. Swana's "Stacked" performance simultaneously recalls Corea's most impossible vintage synth leads, and stands as the session performance that establishes him as our most virtuosic practitioner of the trumpet-type EVI.
Perhaps the session's slowest number, "A Minor Purpose," provides a clue to the focus of Massimo's future efforts. This evocative ballad features him on two synth solos, a spooky squeeze-off and a final thicker vintaged volley, that bookend a gorgeous solo by Giordano, dancing duet-like with Huff's intuiting bass line. All the while, the drums languidly push and pull the time, evoking sci-fi tears.
Massimo has crafted a noteworthy release totally under his own flagship. Responsible for almost every detail of the recording save for his musical partners' extemporizations, Mind Over Matter is an example of a completely independent effort worthy of wider exposure. While it's easy to envision this album pushing Massimo into center stage at drumming festivals worldwide, it's also no stretch to see him moving from this recording into a blossoming career as prog-rock opus auteur.
Tracks: Mind Over Matter; Entrance To My World; The Fun House; Surprise Land; A Minor Purpose; Emphasis Of A Goddess; Strength Of Soul; Ludvik Meets Helena; Stacked; Artifacts.
Personnel: Massimo: drums, V-drums, keyboards; John Swana: EVI, trumpet (1-4,7,9,10); Steve Giordano: guitar (1-5,7-9); Chico Huff: bass (1-5,9,10).
Start your music shopping from All About Jazz and you'll support us in the process. Learn how.
Unable to find .
SELECT e.id, e.person_add, e.on_behalf_of, e.event_type, e.musician_id, e.entity, e.festival, e.house_concert, e.city as ecity, e.state as estate, e.country as ecountry, e.location, e.dt, e.title, e.country_subd, e.state_subd, e.city_subd, e.advertised, e.start, e.price, e.currency, entity.name AS entity_name, entity.city, entity.state, entity.country, entity.country_subd AS entity_country_subd, entity.state_subd AS entity_state_subd, entity.city_subd AS entity_city_subd, country.abbrev AS country_name, currency.name AS currencyname, entity.ticket_url AS ticket_url, musician.thumb_img AS thumb_img, entity.maintained_by vmaint, f.maintained_by fmaint, hcp.maintained_by hcpmaint FROM musician_event me LEFT JOIN event e ON e.id = me.event LEFT JOIN musician ON e.musician_id = musician.id LEFT JOIN entity ON entity.id = e.entity LEFT JOIN entity f ON f.id=e.festival LEFT JOIN entity hcp ON hcp.id=e.house_concert LEFT JOIN country ON country.id = entity.country LEFT JOIN currency ON currency.id = e.currency WHERE e.active <> 0 AND e.is_planned=0 AND e.dt >= CURDATE() AND me.musician = ORDER BY e.dt LIMIT 7
You have an error in your SQL syntax; check the manual that corresponds to your MySQL server version for the right syntax to use near 'ORDER BY e.dt LIMIT 7' at line 1