Maneri Times Two
Mat Maneri
For Consequence
Leo
2004
Violinist and violist Mat Maneri has done much to put the small strings out front, with perhaps mixed but nevertheless assured results. He's run the emotive range from meditating monk to overamplified rock star, and on two recent dates-one with a trio and one a sort of augmented trio-he works in the former, plaintive mode to worthy results.
For Consequence finds him with longtime associate Randy Peterson on drums and bassist Ed Schuller, who has recorded with both Maneri and his father-saxophonist Joe Maneri-as well as Tim Berne, Ran Blake, Gerry Hemingway and Paul Motian. It's a slow, nicely lumbering session with Maneri leading the way, pushing the slightest bit of momentum and letting the setting fall into place, and then pushing slightly again through the first four tracks. There's an appealing formlessness, a sort of lazy conversation, leading up to the final track, where they finally pick up the speed with the theme from the 1944 Otto Preminger film Laura. The disc isn't overstuffed to meet the unfortunate over-an-hour expectations of the CD age; the 42 minutes fly gently by.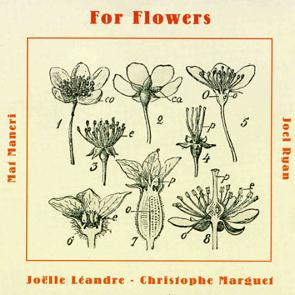 Joëlle Léandre, et. al. Joelle Leandre/Mat Maneri/Joel Ryan/Christophe Marguet
For Flowers
Leo
2004
For Flowers is a busier disc, only in part for Joel Ryan's realtime processing of the players. French powerhouse bassist Jöelle Léandre works both the front and the back lines, alternating between melody (especially with evocative vocalizing) and working the rhythm section role with drummer Christophe Marguet. Ryan has worked with Léandre before, creating canyons out of her rich music. Here he is slow to make his presence known. The trio establishes itself through the first three tracks (all named for flowers, with diagrams to assist nonbotanist listeners). On "Violet" he begins to push his way in, and by "Crocus" he is fully reshaping the band. He throws them in echo chambers, grabbing, repeating and altering their phrases, never intruding on the acoustic quality of the instruments. Where Consequence floats, Flowers is, well, grounded, organic; a pair of lovely string things.
Visit Leo Records on the web.
---