Lorraine Desmarais Trio: Love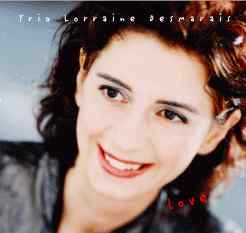 When I first received Lorraine Desmarais' new CD
Love
I was taken by the gorgeous picture of the pianist on the cover and the pretty artwork. Since the arrival of fellow Canadian Diana Krall good looks have been a strong marketing tool. But make no mistake, Lorraine Desmarais has been on the scene for a long time with a solid body of recordings and prizes under her belt. Currently she teaches jazz piano at the Saint-Laurent College in Québec, Canada. The review of her previous CD
Bleu Silence
can be found
here
.


Having said this, lets take a look at the music on the album. The CD presents a program of straight ahead jazz, ranging from ballad and medium tempos to up-tempo. If you are a sucker for beautiful harmony like the reviewer, just start with the first track. With her trio we already know from Bleu Silence Ms. Desmarais plays five originals, three standards and a rendition of Bach's first prelude with only the last few bars exposing Bach's original melody.


The strength of the album is the set of originals. They offer a variety of ideas, from romantic like the title track "Love", pensive in "Sous les étoiles" ("Under the stars") to upbeat like "Jeux d'ombres" ("Shadow games") which opens with an impressionistic passage before settling into a straight ahead style. Amongst the standards we find a slow and beautiful "When I fall in love" and an up-tempo "What is this thing called love". The Porter tune "I love you" opens with a drum bass intro and then settles into a percussive/staccato style.


A word about her sidemen: Camil Bélisle is a very sensitive drummer that supports Ms. Desmarais carefully, especially during the softer passages on the CD. Frédéric Alarie adds to the overall warm sound and it is good the see that he is given adequate solo space.


Overall, a beautiful well balanced album which has a lot to offer. The recording quality matches the fine material. Recommended.


"Les Disques Scherzo" can be found through ADISQ or at Ms. Desmarais' own web site www.lorrainedesmarais.com .
Track Listing
1) When I fall in love (Young) 2) Bluesy Busy Lovers 3) Jeux d'ombres 4) Sous les
Personnel
Lorraine Desmarais: piano, Fr
Album information
Title: Love | Year Released: 2002 | Record Label: Les Disques Scherzo
Post a comment about this album