Joshua Samson & Extended Lifestream: Living the Life at the North Sea Jazz Festival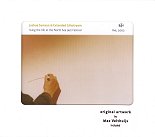 Jazz, as an "in the moment" form, often benefits from live recordings. Encouraged by the energy of an attentive and enthusiastic audience, performers often reach artistic levels that are difficult to attain in the more sterile surroundings of the recording studio. However, some performances are better seen, better
experienced
, than committed to disk for posterity. Such is the case with Joshua Samson & Extended Lifestream's
Living the Life at the North Sea Jazz Festival
; an album that tries too hard in concept to work on record, but was likely a lot of fun to see and hear in the flesh.
Part of the problem stems with percussionist Samson's need to explore such a wide range of ethnic variety that there is ultimately a loss in focus. Opening with an ethnic solo piece on tuned percussion, "4 Pete" then moves into "passionara/brim of the day," a piano/percussion duet with Marc van Roon that owes something to the neoclassicism of Ketil Bjornstad; "1 of 2" pairs Samson with Maarten Ornstein's grinata, an ethnic excursion into India and all points east. "K & J," a quintet number with a more traditional drums/bass/piano/trumpet/saxophone lineup, has its roots in cool jazz, whereas "6," despite the ethnic percussion of the Art in Rhythm players, playfully places a modal workout in Afro Cuban territory. "Joshua San" opens with a free exchange before settling into Brazilian territory with van Roon on melodica.
These are skilled players one and all, and with enough breadth in their respective repertoires to come off with reasonable authenticity; each track works within its own context, but when everything is brought together there is little to unify and little to distinguish itself. Attending the performance was likely another experience altogether; there is clearly enough excitement generated that, when coupled with the event orientation of the project complete with dancers, actors and an artist creating a large image in real time to bring things to life visually, the evening must have been both captivating and memorable. And for those who attended the show, a recorded document of the night would be the perfect memento. However, when faced with nothing more than an aural reproduction of the evening, the whole thing falls short. Even the closer, "desert vibes," which tries to link some of the many musical styles covered in the rest of the show, feels like too little too late.
There is nothing wrong with diversity on a record, but there has to be an underlying musical philosophy that draws it together and, sadly, that is where Living the Life at the North Sea Jazz Festival comes up short. Still, it must have been very exciting to be in the audience; and for those who attended the show this record will serve as a wonderful souvenir of the event.
Visit Apple on the Moon on the web.

Track Listing: 4 Pete; passionara/brim of the day; 1 of 2; K & J; 6; Joshua San; dhoomra; desert vibes
Personnel: Joshua Samson (percussion), Marc van Roon (grand piano, melodica), Tony Overwater (double bass), Maarten Ornstein (saxophone, grinata), Angelo Verploegen (trumpet, flugelhorn), Gijs
---