Colin John Band: Live Voodoo Surfing from the Beachland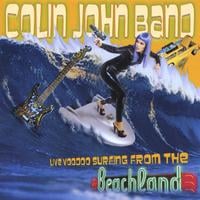 Guitarist, songwriter, and singer Colin John takes his music
way
beyond "traditional blues. "It's sort of a stigma that all blues sounds the same, he says, so he tries to ignite a musical fire that burns differently from the straight blues flame. "I would call it contemporary blues, rock, and soul, he says, or, "non-traditional, traditional blues.
John mainly sounds like the sum of his influences. Formative gigs include his stint in the Saturday night house band at B.B. King's Blues Club on Beale Street in Memphis, where John worked with drummer Howard Grimes and rhythm guitarist Mabon "Teenie Hodges, members of the house band for Hi Records, where Al Green cut his 1970s soul classics. John then moved to London and formed his first CJB, which included onetime Eric Clapton drummer Henry Spinetti, in 1992. John is also a noteworthy gearhead who has enjoyed a longstanding technical relationship with Roger Mayer, the British guitar effects designer who invented the Octavia for Jimi Hendrix and similar guitar devices for Clapton, Jeff Beck, Jimmy Page, David Gilmour, and Carlos Santana.


Recorded live in John's Cleveland (Ohio) hometown with bassist Steve Calabria and drummer Scott Turner, Surfin' burns with the hot sound of ass-whuppin' electric Texas blues. It begins right from the opener, which asks "Are You Ready for the Blues? The rhythm team does what they're there to do—lay down the time and the chords, churn up the beat, and let John flash his vocal and guitar chops, which in this case sound very much like Clapton.


"For Your Pleasure smashes out frantic blues rock that made me think of Ted Nugent's Free For All but with Robin Trower featured on psychedelic lead guitar, and the stormy "Shake 'Em On Down seems to honor Led Zeppelin's "In My Time of Dying and "The Lemon Song.


"Beer Drinking Woman, the closest thing here to a traditional (twelve-bar) blues, serves as centerpiece of the set; as the rhythm section stretches elastic instrumental passages then snaps them back with crashing chord crescendos, John's guitar and vocal, both creased with too much barroom smoke and whiskey, smolder from his soul into yours like a classic Little Milton blues.


This fire burns down to its embers with the set-closing Hendrix tribute, "Voodoo Chile (Slight Return) (also a SRV favorite). Somehow, "this sounds like Hendrix just does not seem descriptive or powerful enough... yet few other words seem worthy of this squalling tornado that spills over with fury, feedback, and funk.

Track Listing: Are You Ready for the Blues; For Your Pleasure; Beer Drinking Woman; Hoodoo Voodoo; 11 Months and 29 Days; Shake ĎEm On Down; Voodoo Chile ē Slight Return (Part Three).
Personnel: Colin John, guitar, vocals; Steve Calabria, bass, vocals; Scott Turner, drums, percussion.
---