Larry Ochs
"It started out as a social thing," says saxophonist and composer Larry Ochs of what would eventually determine the course of his life. "I played trumpet as a kid in New York, but it wasn't really because I enjoyed it. I played music because friends of mine were doing it; then it was supposed to be good for college credit. My private teachers never even suggested to me that I could play music I liked or hinted at the idea of self-expression on the instrument, of having fun, so as soon as I got accepted into college, I just dropped the playing."
Listening to Ochs' compositions, improvisations and arrangements, waxed over the last 30 years, it is difficult to believe that such a voice was almost quelled by indifference and relative disinterest. Yet, Ochs would go on to co-found such pioneering aggregates as the long-lived Rova Saxophone Quartet and the multi-timbral improvising trio Maybe Monday with Fred Frith and Miya Masaoka. Along the way, he has delved into the world of electronic sound manipulation in projects such as Room and on his electric realization of
John Coltrane
's
Ascension
.
Such a multifarious approach now seems inevitable. "I was a listener first," says Ochs of his compositional aesthetic. "I went into college and got involved at WXPN, the great radio station at U. Pennsylvania, with a really extensive library, so I got into everything—everything that I'd known a little about and wanted to explore further." When Ochs finally returned to playing and began composing after relocating to San Francisco in the early '70s, it was with fresh insight gained from hours of concerts, score study and saturation in all manner of recorded music. He has attempted to remember his experience as a listener, translating it into a compositional language in which sound is foremost and in which improvisation impacts and is impacted by radical compositional frameworks.
For Ochs, "improvised music is the umbrella term within which 'jazz' or 'traditional jazz' is one form, one way... All forms that last are really deep and deserve our respect. But for whatever reason, I've always been interested in forms for improvisers that are not the 'trad jazz' form. I mean, I love listening to great jazz soloists, but the form the soloist is exploring interests me less than the forms I work in now." Ochs likens his experience of music to looking out his window and seeing unity rather than judging each component of the landscape. "It was like that when I heard late Coltrane and
Cecil Taylor
in the middle '60s for the first times. It was too much for me, no doubt, but I was hearing shapes and energy. Of course now, I follow every note of that stuff, but my initial impression was of innovative energy and form."
Visuals inform not only Ochs' compositional rhetoric but also the way he articulates the concepts behind the groups in which he is involved. He speaks of musicians inhabiting different spaces on different evenings or after an extended period of rehearsal.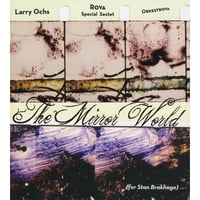 Indeed, space is of primary importance to Ochs, an obvious example being the two realizations of his composition "Mirror World" for filmmaker Stan Brakhage, released last year by Metalanguage. In addition to a seamless blend of composed and improvised elements, the project's soundstage is enormous. On "Hand," the Rova Orkestrova version, the stereo spectrum is preternaturally wide and each instrument or combinations of instruments seems to inhabit its own acoustic space.
The trumpet and didgeridoo duet in "Hand" is a stunning case in point, but each transformation in timbre brings fresh awareness of the space in which the sounds are developing. Ochs likens such detail in his music to the hand-painted Brakhage films that inspired it. "You could mount each frame in one of those films as a painting, because there's so much detail in each one, but he was interested in the moving image." Yet, even in the context of his epic homage, Ochs is emphatic that Brakhage's inspiring work served as confirmation from a like-minded spirit. "I was already way into that space; I just wanted to translate what he was doing into something that would inspire ideas within my oeuvre."
Indeed, similar concerns inform many of Ochs' projects, including the lithely-improvised landscapes of all three Maybe Monday discs and his recent contribution to the Rogue Art label,
Spiller Alley
. The remarkable sonic pallet Ochs conjures even leaves its mark on the compositions of others. 2003's Electric Ascension is as much an update as a tribute, bringing Coltrane's quasi-modal composition into starkly modern relief. "I really feel like we had something to offer," states Ochs, "and that we still do, because the piece can change so much depending on who's involved." The live recording, released on Atavistic in 2005, shares the cinematic approach with The Mirror World, using several of the same musicians. However, Ikue Mori and Otomo Yoshihide bring their own vast sonic arsenals into the mix, the whole underpinned by the swinging rhythms of Donald Robinson, one of the drummers (along with
Scott Amendola
) for yet another Ochs ensemble, the Sax and Drumming Core (now a quintet with
Satoko Fujii
and Natsuki Tamura).
A harder rawer edge can be heard in much of The Core's recent work and Ochs' playing, as mutable as his compositional approach, follows suit. Much should be said of his tenor and sopranino saxophone work, veering wildly as it does between the emotive power of the Trane/Ayler axis and the pointillisms of AACM membership or European improv. It is particularly fine on Juke Box Suite, the most recent Rova disc, released on Not Two last year. Perhaps such versatility comes from being self-taught. "Teachers," Ochs laughs. "Braxton, Roscoe [Mitchell], Leo Smith—I learned from all of them."
Recommended Listening:
Rova,
Favorite Street: Rova Plays Lacy
(Black Saint, 1983)
What We Live,
Trumpets
(Black Saint, 1996-98)
Larry Ochs/Joan Jeanrenaud/Miya Masaoka,
Fly Fly Fly
(Intakt, 2001-02)
Larry Ochs Sax & Drumming Core,
Up from Under (Out Trios, Vol. 5)
(Atavistic, 2004)
Larry Ochs/Rova Special Sextet/Orkestrova,
The Mirror World
(Metalanguage, 2005)
Larry Ochs/Miya Masaoka/Peggy Lee,
Spiller Alley
(Rogue Art, 2006)
Photo Credit
Claudio Casanova
Post a comment