Monica Hatch: Lady of Hearts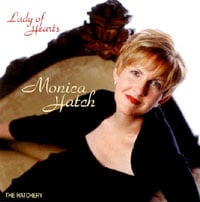 New England houses many outstanding vocalists of the feminine persuasion. There's Donna Byrne, Carol Ackerson, Krisanthi Pappas to mention a few. Now comes Monica Hatch with her second album piled high with great tunes played by some of the finest jazzers in the business.
Hatch is a classically trained singer having studied with the great Eleanor Steber. She still takes on classical or semi-classical assignments. Unlike others who have tried it, e.g., Helen Traubel, who have crossed over to jazz/popular music, Hatch successfully combines those special facilities of a classical singer—perfect pitch, attention to lyrical detail, an understanding of the importance of phrasing, emphasis and timing—with the improvisational flair of a jazzy singer.
Blessed with a pure, crystalline mountain lake voice Hatch works her will with a musical agenda of mostly standards, in fact, all but one. The holdout is "If I Love Again," written for the 1932 musical Hold Your Horses and introduced by Rudy Vallee. Done in medium tempo by Hatch, it's catchy words and toe tapping personality make it one of the highlights of the album. The classical background comes to the fore on ballad material, especially on a haunting, sensuous "Beautiful Love." Hatch goes at this tune in the same way she might sing one of the sultry arias from Bizet's Carmen. "Im Confessin' "opens the door for a few bars of scatting, refined befitting one of Steber's students. Another outstanding track is a melancholy "You Go to My Head" garnished by the harmonica of icon Toots Thielemans. The Belgium jazz star is just one of the jazz celebrities Hatch has managed to coax to the studio.

Gary Foster on sax and flute is also a major contributor. There's an all Boston rhythm section with Tony Zano on piano the stalking horse. Marshall Wood, who is always on Donna Byrne's (his wife) album and Jim Gwin. who has drummed for many of Boston's singers, have worked together on other occasions and provide the basic foundation for the session. Jon Wheatley's no smear guitar is featured on such cuts as "Everything I Have Is Yours."


This is Hatch's first album in about five years. Hopefully, we won't have to wait so long for album three. Recommended.
Track Listing
Yesterdays; I'm Confessin' (That I Love You); You Go to My Head; Beautiful Love; Let's Fall in Love; My Heart Stood Still; That old Feeling; Oh, Lady Be Good; Everything I Have Is Yours; Poinciana; If I Love Again; Too Marvelous for Words; I'm old Fashioned
Personnel
Monica Hatch - Vocals; Toots Thielemans - Harmonica; Gary Foster - Saxophone/Flute; Jon Wheatley - Guitar; Tony Zano - Piano; Marshall Wood - Bass; Jim Gwin - Drums
Album information
Title: Lady of Hearts | Year Released: 2001 | Record Label: Self Produced
Post a comment about this album