Vinkeloe/Cremaschi/Masaoka/Robair: Klang. Farbe. Melodie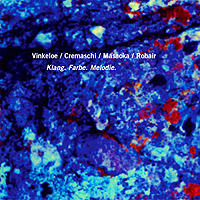 The title of this album translates into "sound. color. melody." That's apt, given the resolution of the pieces that comprise the record. There is no gainsaying which way the music will go and where it will lead. The spur of the moment gives no warning. What is sufficient is that each of the players has a sense of direction and harmonics, and also that sound can be subjugated to give tonality the greatest dimension. So, as the music flows, smoothly or in fits and starts, there is no shattering dissonance. The shared empathy locks in improvisation as each player fathoms the other. And as the music floats and weaves, it rises into a collective embrace, as on the placid gentility of "Minous," where the koto unveils strands of melody plucked by Miya Masaoki with deliberation and shifting emphasis, the contrabass of George Cremaschi and the percussion of Gino Robair creating an instinctive partnership. The latter has a storehouse of percussion that brings in several unusual and enjoyable moments.
The music is not without a jazz sensibility. Biggi Vinkeloe brings that to bear on "Mr. Humble Opinion" with her phrasing on the alto, her twisting lines stacking one idea upon another as she pushes the edges spurred by Robair and the rumbling bass runs of Cremaschi.
Track Listing
An Intimate Detail; Poggioli; A Klanghausen Flower; Minous; Ashes & Davns; A Marginal Icon; Butter Trail; Mr. Humble Opinion; The Wing, Covert; Pudenda Kyrie; Miffles; A Futile Box; Semantic Substitution
Personnel
Biggi Vinkeloe--alto sax and flute; George Cremaschi--contrabass; Miya Masaoka--21-string koto; Gino Robair--percussion, faux dax, bowed metals, bike horn
Album information
Title: Klang. Farbe. Melodie | Year Released: 2005 | Record Label: 482 Music
Post a comment about this album