Kevin Norton: Time-Space Modulator & No Definitive
Vanity labels and the digital age have perhaps resulted in an effluvia of recordings that will likely be enjoyed by fans in the single digits at best, but on occasion the DIY ethos in jazz allows documentation of remarkable work by artists who might otherwise be forever relegated to sideman status.
Kevin Norton is the rare drummer with a strong sense for composition and more than mere competence as a bandleader and it's fortunate that he's able to document his work on his own Barking Hoop label. His self-released records—especially
For Guy Debord
and
Chance Dance (Troubled Energy)
show his gift for extending the jazz language to through-composition without wandering or wading into murk.
Kevin Norton's Bauhaus Quartet
Time-Space Modulator
Barking Hoop
2004
Time-Space Modulator, the eighth Hoop release, is more of a typical jazz record, with plenty of room for improvising but more on the charts than a few quick heads. The pianoless quartet (Dave Ballou on trumpet, John Lindberg on bass and Tony Malaby on saxophone) do well at striking moods, Ballou especially shining through.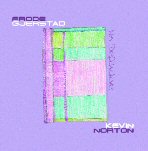 Frode Gjerstad/Kevin Norton
No Definitive
FMR Records
2005
Norton goes into pure improvland in a duet with Norwegian saxophonist Frode Gjerstad on No Definitive , a set which at times wanders but is generally reigned in by Norton's sense for structure. Gjerstad (who has worked with Evan Parker, Peter Br'tzmann, William Parker and Derek Bailey among others) plays hard, often squalling in the upper register, but Norton is good at imposing logic on mayhem. As with Time-Space Modulator , the best moments are when Norton switches to the vibraphone (he's a great drummer, but unparalleled on the vibes). While the composer's voice may be muffled during these improv sets, there's still plenty of Norton to steer the proceedings.

Time-Space Modulator

Personnel: Kevin Norton (drums, percussion, vibraphone); Dave Ballou (trumpet, cornet); John Lindberg (bass); Tony Malaby (tenor, soprano saxophones).
No Definitive

Personnel: Frode Gjerstad (saxophones); Kevin Norton (vibraphone).
---