Jazz In Marciac Festival: Day 4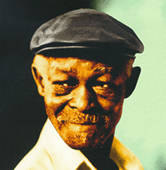 Note: Grammy-winning Cuban vocalist Ibrahim Ferrer, who emerged from obscurity to become a breakout star with the Buena Vista Social Club, died Saturday in Havana at the age of 78. His last concert was Aug. 2 at the Jazz In Marciac Festival, where some who attended said he clearly was in poor health. Ferrer had suffered from emphysema, according to his production company, and became ill during the week. The Marciac concert was the final stop on the tour, and immediate reaction upon hearing about his death was generally more sadness than shock for many. "Today is a very special day - more than special," said pianist Omar Sosa during a performance with his trio Sunday night, "because we had the opportunity to enjoy him here as a performer...one of the greatest, one of the pioneers of our music." On a personal note, I bypassed the concert in order to hear local acts on smaller stages, as noted in my day two report, which I suspect I will long regret as his life story and late-in-life breakthrough are remarkable.

Even if a two-week festival is lucky enough to avoid bad days, some inevitably are "breathers" between peaks.
Plenty of diversity marked day four of the Jazz In Marciac Festival, but it was almost unfair to expect the Thursday lineup to compete with opening weekend listings such as Wynton Marsalis and a day-long series of concerts by students at the much-touted local college. Many of the day's earlier performances ranked as good listens, but failed to achieve the special or unique feel of some earlier in the week.


Still, a headliner gospel concert by The Blind Boys Of Alabama resonated at the main concert tent after a bit of a lackluster start and the Taj Mahah Trio contributed a solid set, although they didn't draw the packed house of the previous night's fusion acts.


Many of the daytime concerts were repeat appearances by bands, including a chance to catch up with two sounding promising from snippets I caught on previous days, the Affinity Quartet and the Nicholas Rageau Quartet. Both turned out to be variations of the type of show I hate assessing as a novice: accomplished mainstream at a level exceeding my ability to dissect nuances.
Plenty of AAJ vets could no doubt say the Affinity Quartet featured shades of Donald Byrd intellect complimented by Charles Mingus-like compositional complexity, or some such thing. I'm more limited - their no-nonsense straight-ahead, featuring a touch of African and Latin undertones, was what I think of as "Coltrane jazz" without some of the jarring edges. Considering that's a potential timeline from Parker to Weather Report, that doesn't narrow the scope much.


Saxophonist Herve Fourtic's moderately old-school tone was clean and the the point for a set consisting of at least some originals, since the few song titles I caught were in French. It was intellectual stuff featuring a lot of ideas with little vamping, repeating or unorthodox notes gimmicking for attention. Perhaps that was the problem - though deep as a college textbook, there wasn't a passion or identity to make it stand out in a crowd of distinguished scholars. The same held true for the West Coast cool stylings of the Nicholas Rageau Quartet, with the bassist leading a show possessing an instant Wes Montgomery- like appeal. But I found myself simply enjoying it on that level without taking many notes. I suspect that's more my fault than theirs - hence my above admissions of ignorance - as many pros could no doubt discern plenty of subtleties I missed.
An early evening show by vocalist Sophie Sorman, on the other hand, didn't rise to the level of some singers earlier in the week - notably multiple appearances by the wide- ranging and free-scatting Sandy Patton. Sorman, backed by an instrumental quartet, had a pleasing enough lilting voice, but many compositions were of the pop-jazz (think Anita Baker) or Latin-pop variety without enough grit or depth to hook.


Her vocals lacked the range and spontaneity of some of the week's better performers. The instrumentalists had a lively enough contemporary flair - Max Pinto did some nice non- cliched worked on sax, although similar chops were less suited to his flute work - creating a listener-friendly landscape. It wasn't bad music and much of the crowd reacted favorably, but not a standout compared to the huge roster of assembled talent.
---