Jazz Icons, Series 4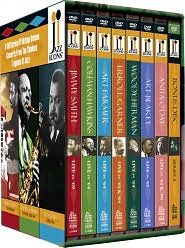 Jazz Icons Series 4
Naxos
2009


The fourth volume of the Jazz Icons DVD series, available individually or in a boxed set, compiles live videos by seven jazz greats never issued commercially, all with detailed liner notes and a bumper crop of period photographs. The performances are in black and white with excellent audio and the long camera shots are a refreshing change from MTV-like darting images, the only downside being the occasional announcer talking over the introduction to a piece.

Erroll Garner's contributions have long been overlooked. His unpredictable free form introductions to each piece, orchestral approach to the piano (in spite of never learning to read music) and expressive joy on his face as he plays all contributed to his popularity. The two sets (from 1963 and 1964) feature him leading a trio that strictly serves a supporting role. He plays his hit composition "Misty" with abandon while his takes on standards (a glistening "My Funny Valentine") and then-current hits (a humorous, quirky "One Note Samba") also have his personal stamp.

The Art Farmer Quartet with Jim Hall only produced two LPs before the guitarist's departure, so the discovery of this 1964 BBC-TV broadcast is very special. Joined by bassist Steve Swallow and drummer Pete La Roca, their intimate, lyrical arrangement of "Sometime Ago" and intricate scoring of "So in Love" make one wish the band had been more frequently recorded.

Another of the treasures is Art Blakey's set featuring an otherwise undocumented band with Jaki Byard, Freddie Hubbard, Nathan Davis and Reggie Workman. Byard is the wild card, as he reins himself in during the ensembles and backing of other soloists, though his solos are as eclectic as usual. Davis, who spent much of his career working in Europe, proves to be a capable tenor saxophonist, while Hubbard shines as well.

Legendary tenor Coleman Hawkins was still going strong in the early '60s. His first set finds him with the under-appreciated pianist George Arvanitas, bassist Jimmy Woode and drummer Kansas Fields and includes the leader's snappy blues riff "Disorder at the Border" and a breezy setting of "Lover, Come Back to Me." A later show with Harry "Sweets" Edison, Sir Charles Thompson, Jimmy Woode and Jo Jones is even better, with a spirited "What is This Thing Called Love" and a tense treatment of "Caravan" that focuses on Jones' amusing, yet phenomenal solo.

Woody Herman's 1964 big band included promising young men like the fiery trumpeter Bill Chase, trombonist Phil Wilson and tenor saxophonist Sal Nistico, along with veterans like drummer Jake Hanna and pianist Nat Pierce. The program is a mix of originals and jazz standards, with the only weak point being Herman's brief wordless vocal in an otherwise blistering take of Mingus' "Better Git It In Your Soul."

Jimmy Smith is at the top of his game in a 1969 Paris concert with his trio. His mad dash through "Sonnymoon For Two" sizzles with energy while his bluesy "The Sermon" and a lush take of the standard "My Romance" are also highlights. The many close-ups reveal his phenomenal technique.

Anita O'Day appears in two sets. The 1963 program is buoyed by her familiar playful setting of "Sweet Georgia Brown" and a campy "Honeysuckle Rose" that showcases Roman Dylag's walking bass. In the 1970 show she scats up a storm in "Four Brothers" and adds a creative medley of "Yesterday" and "Yesterdays."

If you need an incentive to pick up the set over individual titles, consider the bonus disc with an hour-plus of music by Hawkins, Garner and Smith.
---