January 2005
eRikm & Fennesz
Complementary Contrasts Donaueschingen 2003
hatOLOGY
Two electronics/computer experimentalists go head on here. It's partly about coalescing for a union of eerie sounds and configurations recorded live and in the studio. Even for trained ears of electronica, you're bound to hear tones and manipulations that might seem novel. The duo uses computers and associated sound shaping software, topped off by an overall, crystalline audio recording. Essentially, these folks help raise this sometimes sedate genre into other abstracts that ultimately provide a energizing outlook. Ultimately, it's what they do what with their tools via a progression of offsetting micro-motifs that provides the knockout blow.


Dafnis Prieto

About The Monks

ZOHO Music
Plain and simple, Cuban-born drummer/percussionist Dafnis Prieto is a young dynamo. Add to that his mature sensibilities as a composer. Together with trumpeter Brian Lynch, who rounds out a base quintet, Prieto emerges as an artist who possesses amazing chops to coincide with a modernist type view of the Afro-Cuban jazz idiom. Extremely fast via blazing polyrhythms, Prieto bounces his sticks off small percussion instruments within his highly creative approach to drumming. He's a one-man percussion machine within these pieces consisting of punchy horn charts and briskly maneuvered time signatures. With this effort, the artist has firmly implanted his craft and mystique within the multinational jazz scene.


Radio Tek San

Tek-San

Dossier Records
Electronics outing by Geoff Serle and guitarist Tim Crowther contains elements of the past, such as drum machine-induced hand claps with spacey synth swashes and ominously engineered rhythms. However, the duo's rendering of ideas and upbeat scope of attack does suggest a contemporary slant. It's highly listenable and bridges that sometimes opaque EFX-drenched arena, where headiness transparently coalesces with simply orchestrated melodies.


Michael Ross Quartet

Year Of The Dog

Michael Ross Quartet
This Tampa, Florida based jazz-fusion quartet's latest is perhaps its most revealing production to date. Michael Ross possesses one of the fattest acoustic bass sounds you'll likely hear. And along with drummer Walt Hubbard, the foundation is firmly set for the lucid and somewhat aggressive guitar-sax attack. Add to that, Ross and guitarist LaRue Nickelson's memorable comps, boasting balanced segments of scathing solos and lyrically rich choruses. Overall, the band mixes it up rather nicely via these hard-driving pieces, thus providing a hearty snapshot of an ensemble that warrants widespread attention.


Arke String Project with Stefano Bollani and Gabriele Mirabassi

Acquario

EGEA Records
What a beautifully realized project it is! Featuring the five-piece Arke Strings unit along with Stefano Bollani (piano) and Gabriele Mirabassi (clarinet), this set contains lush melodies written for jazzy themes. Here, bittersweet etudes give way to optimistic viewpoints tinged with Mediterranean underpinnings and other pleasantries. The artists finalize this production with a buoyant spin on Joe Zawinul's "Birdland." This Italian record label boasts a wealth of high caliber productions. Hence, another jazz entity in need of duly earned recognition here in the USA.


Dom Minasi

Quick Response

CDM Records
You might not ordinarily associate modern jazz guitarist and consummate improviser Dom Minasi with mainstream jazz tendencies. The same could be said for saxophonist Mark Whitecage, appearing here along with Kyle Koehler (organ) and John Bollinger (drums). The quartet does abide by a quick response slant, although the muse is relatively straightforward and altogether invigorating. They make bop sound easy! And there are some tender moments. But the four-way interactions and fluid soloing escapades are earmarks of what this group is all about. In addition, Minasi's rippling single note runs are counterbalanced by Whitecage's turbo-mode sax lines. The majority of these pieces were composed by Minasi sans a few standards, and what a welcome surprise it is! They make it all seem effortless and unaffected!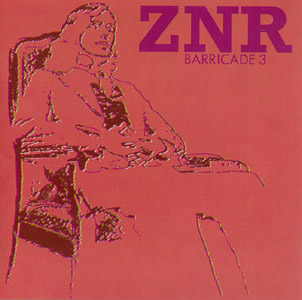 ZNR

Barricade 3

ReR Megacorp
French keyboardist/composer Hector Zazou and musical associates venture into quaint sound-shaping motifs during this delightful outing, featuring woodwind performers, percussion, guitar, and synths. Recorded in 1977 and now reissued, the record involves the use of now ancient Arp keyboards, which do indeed cast a retro slant. And that's part of the charm, especially when we consider the ongoing MIDI revolution. Much of this album is engineered upon brief works, boasting attractive melodies and unpretentious themes amid a few out-of-the-blue diversions.


Sten Sandell - David Stackenas - Evan Parker - Barry Guy - Paul Lytton

Freedom of the City 2004 - Gubbrora
---