January 2004
Front Page
Dennis Chambers – Biréli Lagrène – Dominique DiPiazza
Sunnyside Records
Recorded in France, this is a turbocharged jazz-fusion outing of the highest order. Guitarist Biréli Lagrène and bassist Dominique DiPiazza perform impossibly fast unison lines while drummer Dennis Chambers keeps this train a-rolling. You'll hear crisp swing grooves, polyrhythmic drenched time signatures and revved up funk beats. Guitar hero John McLaughlin joins the entourage on the final track, entitled "Joseph."


I Wish I Knew

Silviano Bazan Trio featuring George Robert with special guest Phil Collins

TCB Records
Pianist Silvano Bazan leads an international trio, with alto saxophonist George Robert sitting in on four pieces. Yet, the real surprise here is pop vocalist Phil Collins' jazz balladry on the standard "Teach Me Tonight." However, the majority of this outing consists of bouncy, mainstream jazz piano trio stylizations. Bazan possesses a keen sense of swing to augment his rhythmic attack, while Robert's fluent lines yield notable results. To that end, you can generally count on this Swiss record label's proclivity for encapsulating strong musicianship within impressive sonic engineering.


Tales From The Cryptic

Guy Klucevsek & Phillip Johnston

Winter & Winter
If you're familiar with either of these stylists, then it should come as no surprise that this pairing would offer quite more than what most mortals would be able to cook up. Any perceivable limiting factor of an accordionist (Guy Klucevsek) performing solely with a saxophonist (Phillip Johnston) is quashed with this endearing production. Framed within a chamber-like setting, the duo explores the outer reaches of harmonic principles via lamenting ballads, up-tempo exchanges, and multirhythmic jaunts. The music is largely unclassifiable, yet irrefutably palatable.


Even The Sounds Shine

Myra Melford Ensemble

hatOLOGY
This is the reissue of the original Hat Hut recording emanating from live performances recorded during the band's 1994 tour of Europe. Arguably, this set reigned as one of the top modern jazz dates of the mid-'90s. Pianist Myra Melford, trumpeter Dave Douglas and reedman Marty Ehrlich explore that very thin line, bordering free-jazz type improvisation and mainstream concepts, steeped in richly thematic lyricism. Nearly ten years later, the music sounds as imaginative and engrossing as it did upon its initial release.


The Original/Best Of

Johnny Cash

Madacy
This posthumously released 2-CD set features The Man In Black's greatest hits. However, the late artist's recorded legacy includes several previously issued packages of this ilk. He crossed many boundaries during his storied career. His poetic lyricism not only highlighted slices of Americana, but he frequently displayed a skewed wit, evident on hits such as "A Boy Named Sue" and other tomes. And of course, his legacy will endure for many years to come.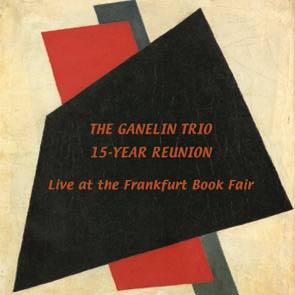 15-Year Reunion – Live at the Frankfurt Book Fair

The Ganelin Trio

Leo Records
The band's fifteenth year reunion is a captivating effort recorded live in Germany. Here, the Russian trio's multitasking abilities follow suit. At times, you'd swear there were more than three instrumentalists on board, but this is the sort of thing that always earmarked the band's sound and scope. They toggle between various jazz-inflected genres, amid a penchant for classically oriented undertones. The sax-keys-drums format defies rigid classifications as they effortlessly whirl through ambient soundscapes and blitzing improvisational flurries. During its prime, the band's uncompromising intensity and remarkable cunningness equated to nothing short of superhuman musical feats.


Orange

Mario Pavone Nu Trio/Quintet

Playscape Recordings
Bassist/composer Mario Pavone is a mover and shaker on his latest release. His prominently executed vertical bass lines provide a bubbly bottom for trio and quintet work, featuring pianist Peter Madsen and other New York City-based musicians. Pavone's resonant lines serve as a firmly rooted and sometimes loose anchor for Madsen, trumpeter Steven Bernstein and saxophonist Tony Malaby. The band displays great depth as they bob and weave throughout the upbeat numbers that skirt the fringes of free jazz and the straight and narrow. Madsen's melodically woven, upper register chord voicings on the piece titled "Rebass Song," signifies just one of the album's many highlights.


QUICK PICKS


At The Crossroads

John Hammond

Vanguard Records
Estimable vocalist/guitarist John Hammond's jubilantly produced acoustic-electric spin on Robert Johnson's compositions should stand as one of the better blues efforts of 2003.


Redwine

Gilbert Isbin

Guitar Nine Records
Belgian acoustic guitarist Gilbert Isbin's intricate finger picking and seamless blend of folksy themes, combined with a reconstruction of Hendrix' "Little Wing," is enhanced by his jazz sensibilities. His articulations might spur notions of the late, great American guitarist John Fahey.


Paradise In Trouble

Chris Washburne and the SYOTOS band

Jazzheads
The trombonist's latest Latin jazz outing features hot n'spicy performances by saxophonist Ole Mathisen and others. As Washburne combines artistic elegance with striking chops throughout this most enjoyable set.


Begin Again

Dave Glasser

Chiaroscuro Jazz
New York City-raised alto saxophonist Dave Glasser has spent quality time with trumpeter Clark Terry over the years. With his third solo effort, however, the artist shines as a proven bop warrior. He possesses a sweet, airy tone augmented by a fluid attack and a flair for intertwining melodies into his boppish methodologies.


This Way Out

John McNeil

Omnitone
An interesting modern jazz affair led by trumpeter John McNeil and his quartet, featuring Spanish saxophonist Horka Benitez and bassist Giulia Valle. Drummer Joe Smith provides the spark to these arrangements, spanning complexly devised shifts in strategy and up-tempo rhythmic underpinnings. The musicians cover quite a bit of musical territory. Fortunately, it all pans out rather nicely during an abundance of rapidly flowing and altogether, invigoratingly enacted time signatures.


Reinventing The World

Andy Middleton

Intuition
Saxophonist Andy Middleton's fourth effort as a leader features superhero trumpeter/flugelhornist Kenny Wheeler, free-jazz trombonist Nils Wogram and several others. The saxophonist and his octet garner a robust sound, though some tracks fare better than others. It's a solid effort in any case, and Middleton possesses the goods and wherewithal to become a major influence within progressive jazz circles.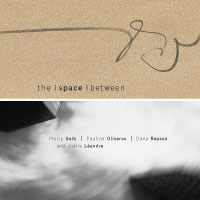 The Space Between

Philip Gelb (shakuhachi) – Pauline Oliveros (accordion) – Dana Reason (piano) with Matthew Sperry (bass)

482 Music
Dense, yet at times minimalistic convergence of free improvisation and somewhat blurred, yet inadvertently fragmented world music stylizations. The musicians dedicated this CD to bassist Matthew Sperry's untimely passing.


Instants - Live at Teatro Olimpico

Roberto Dani

Roberto Dani
Italian drummer Roberto Dani is a superb technician. He's one of Europe's most exciting artists, and besides leading various units, he's a first call session ace. The quartet features French clarinetist Louis Sclavis and cellist Vincent Courtois. American trumpeter Kyle Gregory rounds out the band. They effectively use space as a means of transmission during these semi-structured works, consisting of equal parts improvisation and meticulously arranged choruses.


Sharp Knives Cut Deeper

Frode Gjerstad Trio with Peter Brotzmann

Splasch Records
Norwegian reedman Frode Gjerstad teams with the infamous saxophonist/clarinetist Peter Brötzmann for this slicing and dicing foray into free-form jazz. The album title provides an all-telling parallel to the overall program. Beautifully recorded...
Post a comment