Assif Tsahar/Mat Maneri/Jim Black: Jam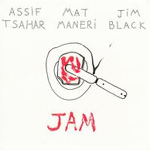 Whether sparse or dense, light or heavy, stuttering or gliding, the nine untitled tracks on
Jam
feel like a natural progression. Something of a summit for these three out jazz improvisers, the recording unfurls like a series of open conversations might extend to tell a story.
That's appropriate given these players' exquisite control of their instruments and their preference for listening and responding, rather than shooting from the hip. And given that each of the nine untitled tracks tends to be an encapsulated entity, they unfold like chapters down a musical path. There's almost no melody in the usual sense here, but that doesn't hinder the flow at all.


Assif Tsahar's real strength lies in his ability to coax an extremely broad range of timbres from his instruments, in this case the tenor saxophone and bass clarinet. His playing is rarely clean; instead of handling the horn "correctly," he drifts up and down around notes, coloring them with breath and overtones. The depth of his horns on this date is appropriately matched with Mat Maneri's 5-string violin, which stretches down into viola territory and quite often sounds like a cello. All that warmth makes the combination seem more human and better connected. And it's a pleasure to hear quick-witted (and usually quick-handed) drummer Jim Black in this setting, mostly channeling his usual flying sparks into a burning glow.


The first track on Jam sounds like the musicians are sitting down, getting comfortable, and settling into a rhythm. As the recording continues, the three players engage in short, halting interchanges, closely spaced without overcrowding. They sit back, introducing more space within and between each other's notes. As time passes the overall tenor of the record has been established: darkly clouded, deliberate, and often ominous. A brief wakeup call midway through marks a spike in energy where musical phrases crowd together in a more jumpy fashion, but then it's right back to more quiet brooding, and finally a gentle flush of dissonant waves closes things out.


Restraint and coherence are the key factors here. The first quality means the music consistently skirts overstatement, the second means it still spans a range and tells a story. The title of the record (in either culinary or musical senses) is somewhat ironic, though. This jam is more black currant than strawberry, served with more deliberate intent than freewheeling abandon.


Visit Hopscotch Records on the web.
Track Listing
Nine untitled tracks. Recorded August, 2003.
Personnel
Assif Tsahar: tenor saxophone, bass clarinet; Mat Maneri: electric 5-string violin; Jim Black: drums, percussion.
Album information
Title: Jam | Year Released: 2003 | Record Label: Hopscotch Records
Post a comment about this album