Isabella Lundgren at Bullret Jazz Club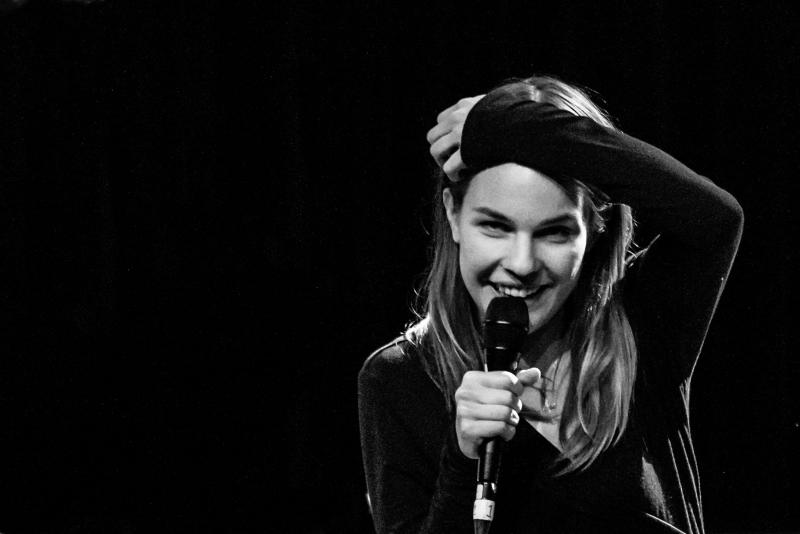 Isabella Lundgren with the Carle Bagge Trio
Bullret Jazz Club
Malmo, Sweden
November 20, 2017
From time to time the "Bullret Jazz Club" uses the "Kuben" space at Malmo Live to host performances. On November 20, 2017, it was jazz singer
Isabella Lundgren
's turn to appear. Accompanied by the Carle Bagge Trio, she presented an intense ninety-minute set.
Some publicity materials stress Lundgren's affinity with
Billie Holiday
, but don't attend a performance expecting singing limited to nuance and curve balls. Lundgren has elements of Billie, yes, but there are also splashes of Barbra (a voice that goes huge with a tight vibrato), Betty (a willingness to stretch time, though not the same improvisatorial daring), and, in the lyrics to her originals, Bjork. Her sometimes lengthy introductions to her songs were entirely in Swedish, a language I unfortunately don't know, but she sang exclusively in English.
Her set was heavy on originals, but she also sang two spirituals and ended with the classic "I Can't Give You Anything but Love" (dedicating it to a birthday girl in the audience). Her lyrics are the kind to give creative-writing teachers fits—all telling with little showing, dramatic generalization with no drama. She fits them to pleasant, jazzy melodies, however, and sings with such sincerity and intensity you tend to forgive phrases like "cage of loneliness" and just enjoy the flow of the music-making. She often ends songs with a repeated phrase that builds tension and gives the listener room to accrue meanings as she goes.
Lundgren has a powerful voice and a direct, friendly connection with her audience that was apparent even through the language barrier. There are a lot of young female jazz singers at the moment (aren't there always?) but Lundgren's sheer vocal talent and her interest in writing original, politically-engaged songs set her apart.
The trio did not get its own feature, but ample solo space was provided, with Lundgren frequently stepping away from the stage so a soloist could enjoy the spotlight and acknowledging the soloist's efforts when she returned to the mic. The musicianship was excellent but there was a sense that each solo was part of a carefully choreographed whole and thus little sense of surprise. Of course, a vocal concert is probably not the place to expect too many improvisational fireworks and the trio certainly provided excellent and sensitive support to Lundgren's singing.
Post a comment