Pip Pyle's Equip' Out: Instants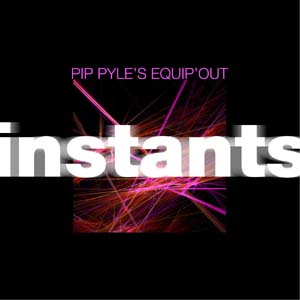 Widely recognized as
the
drummer of the British Canterbury progressive rock scene, Pip Pyle has made his mark playing for a number of seminal bands, including Hatfield and the North, National Health and Gong. After spending thirty years as the on-call drummer for the scene, he has emerged over the past fifteen as a leader in his own right with Equip' Out and, more recently, Bash. What Pyle has demonstrated with his own projects is a more free improvisational sensibility.
And by associating with artists including double-bassist Paul Rogers, who has worked with free players including Keith Tippett (most notably in the groundbreaking group Mujician), Elton Dean (whose work with his own groups including Just Us and Ninesense is eclipsed only by his participation in the classic Soft Machine lineup), and French pianist Sophia Domancich, he has moved away, for the most part, from the complicated arrangements that characterized his earlier work and into a more spontaneous environment where compositions are nothing more than road maps to get from one place to the next.
Releases by Pyle have, however, been few and far between, so it is good news that Hux Records, best known for its series of BBC recordings by classic British bands, has issued Instants , a 1994 live recording by Pyle's Equip' Out, albeit in a different form than on their self-titled d'but and followup, Up. Along with long-time members Paul Rogers and Elton Dean is guitarist Patrice Meyer, whose relationship with Pyle continues to the present day with his new group Bash and their debut CD, Belle Illusion , replacing Domancich.
The two studio recordings by the group, while certainly characterized by some of the freest explorations this side of Dean and Tippett, also featured some more catchy compositions, including "Foetal Fandango" and "Cauliflower Ears." On Instants the emphasis is more on liberated playing, with the only defined constructs being the occasional theme, and vamps that provide the group a harmonic foundation for extended soloing. The compositions are credited to all four members of the band, but these are not spontaneous compositions or, for the most part, purely free improvisations. While primarily vehicles for extended exploration, there is just enough structure to give listeners something to hang their hats on, cleverly combining the approachable appeal of form with a larger license to extemporize.
From the loosely funky "Ifi Riff" to the lightly swinging "Rumblestiltskin," which has changes that are distinctly Canterbury in an indefinable way, and from the more out-of-time "Rumble Skin Stilt" to the up-tempo, insistent and intense "Beneath," Pyle and the group tie the more structured segments together with completely free passages. The risk of such a loosely structured context is one of excess, and Instants does on occasion meander a little too long. Still, for the most part the playing is committed and vital, making Instants a welcome addition to a personal discography that is all too small, from a drummer who has helped define the Canterbury style and sound.

Track Listing: Verse de Blue; Ifi Riff; Rumblestiltskin; Rumble Skin Stilt; Beneath
Personnel: Pip Pyle (drums), Elton Dean (alto sax, saxello), Patrice Meyer (guitar), Paul Rogers (bass)
---