Brett Larner/Shoko Hikage/Philip Gelb: Indistancing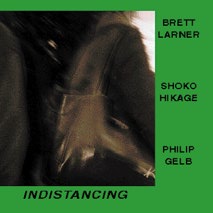 In the blending of cultures that modern technology has made possible, traditional Japanese instruments like the koto and shakuhachi are now harnessed for free improvisation. In addition to the idiomatic cultural references these instruments bring, they also lend a distinctive tonality to the music. The koto, a stringed instrument, occupies the treble zone with a harsh attack and limited sustain. The shakuhachi, a flute-like instrument, also floats high with a thin treble sound and rich overtones.
On Indistancing, three masters realize the truly international character of these instruments. Canadian expatriate Brett Larner first met fellow koto player Shoko Hikage (Japanese) and shakuhachi player Philip Gelb (American) a mere 30 minutes before this performance, though you wouldn't guess it from the sound of the record. Sparse, haunting melodies intertwine and explode into frenzied intensity, then settle back into contemplative introspection.
Absent throughout Indistancing are conventional jazz forms usually associated with improvisation, though the musicians engage in plenty of intelligent and sensitive interplay. About halfway through the record, a dripping noise appears in the left channel. Since nature chose to accompany the performance, the musicians choose to accept it and move forward with the improvisation. Maybe that's an Eastern way of looking at things—who knows?
Track Listing
Confluence; Volt/Going; Indistancing; Channel.
Personnel
Brett Larner, koto; Shoko Hikage, koto; Philip Gelb, shakuhachi.
Album information
Title: Indistancing | Year Released: 1999 | Record Label: Leo Records
Post a comment about this album