Independent Exposure: Part 1
The DIY ethic has been prevalent in rock music for several decades now, perhaps seeing its most significant explosion during the punk era of the late '70s. It would later give rise to a whole genre unto itself, otherwise known as "indie," or independent, characterized by artists who deliberately aimed to bypass the formal, big-money channels and instead issued their records on extremely small or ad hoc labels. The emphasis of indie was on the music and getting it heard by any means possible, even if it meant forgoing the power of the major labels' promotional machine.
Indie jazz is not so common as its rock equivalent, but there seems to have been a marked increase in the number of self-released and small-label albums over the past few years, owing, among many other reasons, to the consolidation of once autonomous labels under a mere handful of protectionist, risk-averse conglomerates, as well as the availability of more affordable and technologically advanced recording equipment for both home and professional use.
It isn't particularly easy for the casual listener to discover these under-the-radar albums in the first place, let alone for an army of reviewers to keep up with the sheer volume of them all, and so many of them unfortunately go unnoticed except for the support of family, friends and a devoted local following. Admittedly, these records aren't always on a creative par with their big-league competitors, because democracy, whether in politics or the arts, has a habit of fostering mediocrity above all else — but to ignore any indie album on this basis naturally does jazz a huge disservice, a potential case of throwing the baby out with the bathwater.
Hip Graffiti
This Is Hip Graffiti
DTL Records
2004
This Is Hip Graffiti is a tuneful, if somewhat staid, collection of standards and covers by songwriters ranging from Cole Porter to Joni Mitchell. The group often feels like an exclusive vehicle for vocalist Carol Fuller, with any remaining solo time given over to her husband, co-leader and guitarist Jay Myerson. As part of the core instrumental trio, electric bassist Wendy Hrehovcsik (pronounced "re-hov'-ik"?) and drummer Warren Bryant aren't exactly relegated to the shadows but they do have a secondary, supporting role. On the group's rendition of "I Get a Kick (out of You)," Fuller is inclined to spice up the lyrics, with the result that some of it seems awkward and, to coin a word, very un-swinging, when the intended effect was probably the opposite. She also spends quite a bit of time in the upper part of her range, as on Antonio Carlos Jobim's "Meditation," when lower and throatier vocals might be more effective. What's most encouraging about Hip Graffiti is the amount of female involvement. There's no sense of the usual boys-only club, and the overall mood benefits from this.
The Ron Davis Trio & Shimmering Rhythm
Shimmering Rhythm
Davinor Records
2005
This, too, is a mixed-gender project, the Shimmering Rhythm Ensemble being a two-man/five-woman outfit called in to augment Davis' all-male trio. The term tour de force has often been used to describe a lot of things that aren't, but Shimmering Rhythm qualifies for the honor ten times over. The outstanding opener "Rhythmaron," based on the chord changes to George Gershwin's "I Got Rhythm," blends bright, swooping Gershwin-style clarinets with bop, swing and a central Bach-like fugue, achieving a rich big band sound without the extra weight. Tania Gill, who heads the Canadian quintet Runcible Spoon (which also comprises in part the Shimmering Rhythm Ensemble), has crafted some clever arrangements to supplement Davis' core compositions. On "Oratio," for example, she spaces out the strings so that their presence isn't constant but always implied, and on "Les Angéliques" she has Jean Stilwell's graceful mezzo-soprano follow Davis' pensive piano line for a beautiful effect. "Chassal Sidur Pesach" — on which Davis' father, a concentration camp survivor, contributes some brittle verses — and the "Shimmering Interludes" bring klezmer and traditional Hebrew songs into the jazz fold, recalling the work of the group that does this sort of hybrid best, The World Quintet. There are some unabashedly jubilant pop moments as well, "Pawpwalk" being one of them.

Shimmering Rhythm is delightfully varied, expertly composed and performed, and retains a universal appeal without selling itself or the listener short. This is the kind of album that, for any number of reasons, could easily slip past the international jazz scene's peripheral vision — which would be a shame, because it has the potential to win converts while entertaining veteran listeners.




Lotz of Music
Pendant la nuit
LopLop Records
2004
While Davis takes a rather unconventional approach to the conventional, German flautist and bandleader Mark Alban Lotz does the opposite. His Pendant la nuit — a fairly straightforward title given that earlier albums of his (he has an extensive discography on smaller labels) were entitled Cuban Fishes Make Good Dishes and, in what can only be a Douglas Adams tribute, Mostly Harmless — is naturally playful and peculiar without being too abstract or alienating. Many of the tunes are short — sketches as opposed to songs, most of which were performed as an accompaniment to an eponymous play — but they demonstrate no small amount of ingenuity. "Cowboy Game" uses a faint harmonica as a rhythm instrument as well as some colorful and exotic-sounding percussion to support what amounts to a 90-second solo by Lotz, who flutters and glides overhead. It's an odd and interesting choice for an opening track; but then, Lotz doesn't seem to be preoccupied with baby-stepping the listener into his slightly skewed world. "Pow Pow," which follows the exquisitely beautiful straight-ahead ballad "6 Pendant la nuit," is growls, grunts and scat vocals over a rubbery bass. With shades of Ravel's "Bolero," "Little Shiva" then moves back into more traditional territory. The album is more or less balanced by this interlude/song sequencing, the dusty tribal sounds of "Hungry I" and "II" offered in contrast to the amusing kitsch of "Charlie's Bossa." Pendant la nuit is tender, thoughtful, excited, wry, sad, as much a work of theatre as the project that occasioned it.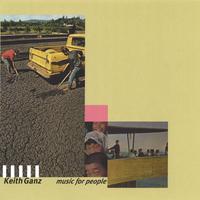 Keith Ganz
Music for People
K & K Records
2005
Keith Ganz has titled his debut solo CD Music for People — as opposed to, say, music for giraffes, which doesn't even have its own Billboard chart. He's as happy as Lotz to go wherever whim takes him, though in Ganz's case, that means the songwriting and improvisation on Music for People are guided by a more somber, reflective attitude. Ganz also has a soft spot for pop, and songs like "Hymn for Her" can drift briefly into mawkishness.

But the sheer heart-on-sleeve intimacy of the disc enables Ganz to work a certain kind of magic. "Long Goodbye" is a minor masterpiece in which the guitarist uses a mixed acoustic/electric sound to illustrate phases of anger and indecision, reminiscence and regret, pessimism and hope, sorrow and resignation. It works well in the company of shorter tracks like "Debbie in the Dark" and "Lonely, Lovely Road." Taken together, these personal vignettes working within certain technical and expressive guidelines lend the album the feel of a poetry collection.

Ganz might have had a similar impression when assembling Music for People. "Transpose," the only vocal track, is based on a poem by Jane Shippen that employs twenty-two anagrams of that word (e.g., "spare snot," "pat snores," "sonar step"). While good for a laugh on the first spin, neither the music, the vocals, nor the lyrics call for repeat listens, and this track may quickly become tied to the remote's skip button. As the intricate, effects-heavy improvisation "Fade to Inner Child" demonstrates, this New York-based guitarist is at his most articulate when there are no words.


Philip Gayle
The Mommy Row
Family Vineyard
2005
Philip Gayle is another New York-based (via Houston) solo guitarist who, like Ganz, has created an album with deep personal significance entirely by himself. He has branched out instrumentally a bit more than Ganz to include 1- to 12-string guitars, aluminum egg bar, mandolin, baritone ukulele, Chinese flat gong, kwengari, tingshaws and wine glasses (this eclectic scope is nothing new to Gayle; his forthcoming Naked Brunch will be recorded using "voice- and body-generated soundscapes") and used twenty times as many overdubs.

The Mommy Row is, to put it simply, noise. I — and from here on I'm unwillingly forced to resort to the first person, because music as wildly abstract as this becomes an exercise in pure subjectivity — cannot honestly imagine anyone listening to this for pleasure. It strikes me as the sort of self-indulgent theory-driven project that aspires to prove that music can be whatever one says it is, provocation for its own sake. Rather than taking established forms and expanding them little by little, Gayle has leapt into complete and utter disorder, the only concession to custom being that he has released his work as a CD with eleven tracks and not as he may have been tempted to do, in a continuous telepathic stream.

The whole disc seems to be carried out in as questionable taste as the cover art: banging, whirring, tapping, clicking, bouncing, plucking, scraping, with only some vague similarities between the actions to delineate a "song." (Strain hard enough and you might detect a melody buried in "certificate" [sic].) There is something to be said for drawing unique sounds out of traditional instruments; but keep in mind that these methods of playing — striking a gong, for example, instead of scraping it with a plastic fork — developed over centuries for a good reason. And, its musical or non-musical qualities aside, there is also something to be said for the questions a disc like The Mommy Row invariably raises. Is the greater purpose of art to give order to a chaotic world? Or is its purpose to mirror that chaos?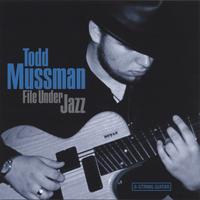 Todd Mussman
File Under Jazz
TM Jazz
2005
Sitting on the opposite side of the spectrum from Philip Gayle is yet another guitarist, Todd Mussman, who likes his music as he does the whisky that apparently inspires it — that is, neat. His melodic lines are coherent and clear, his solos easily mapped and well- defined; and his duo partner Chris Parker's drumming is snappy and pristine in complement to all this. For this young Pittsburgh area guitarist to title his debut File Under Jazz is a bit like overstating the obvious, though record store clerks with a zest for musical taxonomy might also consider "contemporary instrumental blues" a possible category. But the idea of a duo is somewhat misleading, because Mussman plays an 8- string electric guitar, which enables him to simultaneously work in a distinct bass line to each song. The technique makes standard guitarists look like they can't walk and chew gum.

Mussman pays solid tribute to Wes Montgomery, no doubt one of his influences, with a straight cover of "Road Song," but the remaining seven tracks on File Under Jazz are originals with a fair amount of stylistic variation. "On Thin Ice" has a groovy, propulsive feel. Where "When the Day Is Done" is bluesy and relaxed, "Yeah, Right" is bluesy and swinging, and at one point Mussman comps with the higher-pitched strings while soloing with the bass. Instead of leaving off on a tender note with the ballad "In Silence," Mussman closes with "Tooth & Nail," a gritty roadhouse stomper. If File Under Jazz has one clear fault, it's that the disc (in absolute contrast to Gayle's unlistenable The Mommy Row) walks too safe a line. Some more intrepid forays — even if Mussman and Parker didn't quite pull them off — would have enlivened this otherwise promising CD.


Personnel and Track Listings
Hip Graffiti

Personnel: Jay Myerson (guitar); Carol Fuller (vocals); Wendy Hrehovcsik (bass); Warren Bryant, Linda Kent, Tim McIntyre (drums); Sky Ladd (keyboards); Rick Ogden (saxophones); Cristiano Novelli (percussion)

Track listing: 1. I Get a Kick (out of You); 2. Night and Day; 3. Meditation; 4. Woodstock/Fragile; 5. Vivo Sonhando; 6. Stella by Starlight; 7. A Lotus on Irish Streams; 8. Flor de lis; 9. A Foggy Day; 10. Satellites; 11. Softly as in a Morning Sunrise; 12. Corcovado; 13. Love Dance

Shimmering Rhythm

Personnel: Ron Davis (piano); Drew Birston (bass); Ted Warren (drums); Sasha Boychouk (clarinet, bass clarinet, alto sax, soprano sax, baritone sax); Monica Fedrigo (cello); Julia Hambleton (clarinet, bass clarinet); Karen Moffatt (viola); Jean Stilwell (voice); Jake Wilkinson (trumpet); Tania Gill (arranger)

Track listing: 1. Rhythmaron (5:19); 2. Oratorio (5:49); 3. Shimmering Interlude #1 (2:38); 4. Pawpwalk (2:58); 5. Les Angéliques (7:36); 6. Jeanamora (4:41); 7. Shimmering Interlude #2 (0:54); 8. Chassal Siddur Pesach (4:04); 9. Shimmering Interlude #3 (1:10); 10. Rhosymedre (6:15); 11. The Way You Look Tonight (6:46); 12. Chassal Chassal (2:10)

Pendant la nuit

Personnel: Mark Alban Lotz (c-, alto-, bass-, PVC contra bass flute; piccolo, vocals); Edwin Berg (piano, prepared piano, melodica, charlie [e organ], vocals); Eric Surmenian (bass, vocals); Frederic Jeanne (drums); Alan 'Gunga' Purves (percussion, harmonica, water cymbals, bells, wooden spoons, snare and low pitch drum, baby marimba, mini thumb piano, vocals)

Track listing: 1. Cowboy Game (2:21); 2. 6 Pendant la nuit (4:42); 3. Pow Pow (1:45); 4. Little Shiva (7:00); 5. Leo's Walk'n (1:49); 6. Tongue Resonance (0:42); 7. Hungry I (2:05); 8. Xandra's Monologue (3:14); 9. Pyg-Mee-Bop (5:36); 10. Flow (2:44); 11. Dreamy Nuit (4:12); 12. Pig-o-Loco (2:59); 13. Hungry II (1:27); 14. Pendant le 70's (3:22); 15. Charlie's Bossa (1:48); 16. Bossa de la nuit (3:14)

Music for People

Personnel: Keith Ganz (guitar)

Track listing: 1. A Wish for (Her) Wish to Come True; 2. Lovely, Lonely Road; 3. For an Audience of One; 4. Debbie in the Dark; 5. Hymn for Her; 6. Long Goodbye; 7. Transpose; 8. Air on a G String; 9. Fade to Inner Child; 10. Old Dogs; 11. Slow Dance

The Mommy Row

Personnel: Philip Gayle (1- to 12-string guitars, aluminum egg bar, mandolin, baritone ukulele, Chinese flat gong, kwengari, tingshaws, wine glasses)

Track listing: 1. Gyo, Gyo, Gyo, Gyo; 2. Zoomly Zoomly; 3. Kanojo no pan; 4. The Payphone; 5. Koyangi Sesu; 6. certificate; 7. Cow People; 8. 128 high; 9. April Warp; 10. flat tire; 11. Yagamo

File Under Jazz

Personnel: Todd Mussman (8-string guitar); Chris Parker (drums)

Track listing: 1. Turning Point; 2. Clockwork; 3. Road Song; 4. Yeah, Right; 5. On Thin Ice; 6. When the Day Is Done; 7. In Silence; 8. Tooth & Nail
Post a comment