Jorge Sylvester Afro-Caribbean Experimental Trio: In the Ear of the Beholder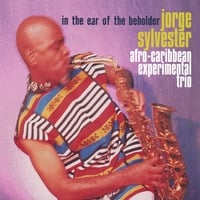 Jazz artists often approach Afro-Caribbean music from a reductionist rhythmic standpoint, neglecting the richness of the tradition. But Jorge Sylvester takes care to present the whole picture on
In the Ear of the Beholder.
Taking various Afro-Caribbean styles and paring them down to a raw trio format (sax/bass/drums), he compels each player to bring something unique to the mix.
Much of the improvisation on In the Ear explores individual traditional styles in step-by-step fashion. "Tambor—The Mix," for example, works its way through theme and variations, emphasizing Afro-Brazilian rhythms. Sylvester's saxophone voice pursues tangents off of a tonal center, gradually evolving with the bass and drums in and out of moments of sheer pulsing energy. Toward the end of the piece, the three musicians emerge into raw three-way polyrhythm. Subsequent tunes incorporate ideas from traditional Panamanian, Mexican, Afro-Cuban, Jamaican, and Afro-American music. The most notable thread running through all these pieces is a surprising fluidity of motion: while the trio may explore odd meters or complex melodic interaction, the overall "feel" remains unswervingly organic.
As a true hybrid of traditions, the music on In the Ear also incorporates a healthy dose of North American ("Afro-American") influence as well. Particularly in the more involved saxophone improvisations, hints of Getz, Rollins, and Coltrane appear. "King's Highway" operates around of a Pastorius-inspired bass line. Thus the trio expounds its self-proclaimed "experimental" edge. And as a consequence, the music is hardly easy listening. It's propulsive and dynamic, but also quite intellectually involved. There is no easy classification, no simple reductionism, and nothing primitive about In the Ear of the Beholder.

Track Listing: Tambor--The Mix; Sly Mangoose; Corazůn Rebelde; Por La Clave; In the Ear of the Beholder/Por La Clave Part II; Songoajira; King's Highway; Tropicando.
Personnel: Jorge Sylvester: alto saxophone, hand claps, voice, cuica voice effect, maracas, and cow bell; Donald Nicks: electric bass guitar and fretless bass guitar; Bobby Sanabria: drums and bells.
---