In Concert: Coconuts Feeding Birds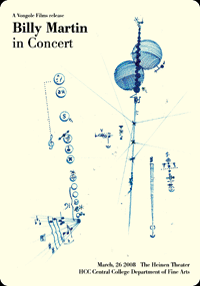 Billy Martin
In Concert: Coconuts Feeding Birds
Amulet
2009


Due to his tenure with mega-successful avant-garde jamband powerhouse Medeski Martin & Wood, Billy Martin currently inhabits the most elite pantheon of contemporary percussionists.

This popularity has made each member of that trio a star in his own right, and their solo work attracts similarly large and enthusiastic crowds wherever they perform. The new DVD In Concert: Coconuts Feeding Birds makes available to all of us such a performance, showcasing the percussionist in a solo environment on stage at Houston Community College in 2008, where he taught a percussion master class. Martin surrounds himself with an eccentric arsenal of instruments, ranging from a standard drum kit to a frying pan, not to mention gongs, bongos and imposing concert bass drums.

The opening "Black Elk Speaks" pays homage to the teachings of the famous Sioux Medicine man by recreating a powerful storm. Martin deftly accomplishes this simulation of a cataclysm by beginning with foreboding rumblings and making the sounds evolve into a chaotic, sonic maelstrom through the crashing of gongs and cymbals. After that nearly ten-minute journey, Martin loosens up with selections that recall the African origins of the handmade instruments used to play them. Perhaps the most enjoyable piece is "Whirlwind Chaser," in which Martin begins by establishing a rhythm on the agogo bells; continuing to play the bells, he walks to his drum set and accompanies the music he's making with his hands by adding a driving beat with his hi-hat and bass drum.

The rest of the set presents Martin as a virtuoso supreme. He's like a mad scientist happy to be confined to his laboratory where he can play with his toys without being disturbed by the outside world.


In brief, this disc is required viewing for every percussion student or fan. It allows the viewer to spend an hour with one of the world's greatest percussionists in a totally raw, intimate environment that no doubt informs and inspires the music he makes in sold-out concert halls.



Tracks: Six Grandfathers; The Daybreak Star Herb of Understanding; Whirlwind Chaser; Killing the Drought; Duck Pond; Starlings by Starlight; Burundi; Pahoihoi Variations; Guavas Feeding Birds; Lele-Yara.
Personnel: Billy Martin: balaphones, gongs, mbiras, caxixi, pandiero, congas, drum set.
Production Notes: 60 minutes. Recorded at Houston Community College. Extras: 14-minute slide show with personal commentary about his master class,the instruments and philosophy behind his compositions and performance.
Post a comment
Watch