Grey Ghost: How to Create Words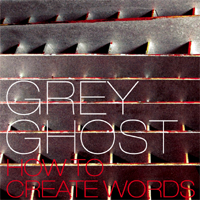 One could rage on in debate about the need for jazz to embrace technology in order to grow, and that – as groups as diverse as Return to Forever and Musica Elettronica Viva have proven – electric and/or electronic sound production has a valid spot in improvised music. One could also debate with an equal tenor that the ability to reprocess and 'fix' an improvisation has nothing to do with the art of playing jazz. Of course, both would be right, and the anti-improvisational aspects of recording notwithstanding, suffice it to say that electronics and computers have made their way into the canon of improvisational tools. The question now is how to use them effectively.
How to Create Words, a series of duo improvisations by multi-reedist Aram Shelton and percussionist Jonathan Crawford, is the fourth in a series of 482 Music discs documenting the improvised music scene of Chicago's North Side. On this, the first disc released by the duo, reeds and percussion are augmented by the ubiquitous (at least for Chicago) laptops and samplers, making this a decidedly different breed of saxophone-percussion duo.


Shelton is currently a member of Ken Vandermark's Territory Band, and he also leads a post-bop quartet with trumpeter Josh Berman. His improvisational style seems relatively rooted in that of his AACM forebears, a breathy Konitz-like tone (employed tastefully in the jazzier moments) often appears, as does a penchant for the icy circularity of Roscoe Mitchell (or Evan Parker). Bluesy phrases and bop lines make their way into the mix, but these snippets of melodic interest seem like soundbites, snatched from context and seemingly put there to remind one of an improvisational language that has since fallen into disuse along the technological march of contemporary music.


Significant bits of exchange between acoustic instruments do take place on occasion, but the pair seems more genuinely concerned with making low- to mid-level sound collage of an ambient nature, with bubbling processed saxophone sounds intermingling freely with synthesizer twiddles and minimalist drones of an indeterminate origin. When Shelton takes to mere overdubbing, this actually works better than sampling or loops: for example, "Keep On" has a nice out-of-tempo (and very Richard Abrams-inspired) head, overdubbing flute, clarinet, alto, and trumpet against a very insistent percussive backing. Shelton's alto solo is full of fire, but the piece closes abruptly without any attempt at resolution.

In a way, this is indicative of the entire album: just when an interesting idea seems to rise up out of the artificial mist, it fails to run through to a satisfactory feeling of emotional output. Rather, a clinical approach to sound assemblage has resulted in the feeling that these two musicians are trying to improvise an escape from their own maze. With some computer-derived improvisation, one still holds the belief that the musicians are enjoying the opportunity to create with an entirely new set of linguistic rules based on the introduction of technology. The feeling resounds that maybe these musicians have figured out their laptops a little too well for their own good.

Track Listing: Spitzacolli
Personnel: Aram Shelton
---