Houston Person
Houston Person is jazz' working class hero, a true man of the people. Person who was born in Newberry, South Carolina in 1934, first received moderate national attention with a series of soulful albums recorded for Prestige back in the '60s. In 1968 he began a sympathetic and successful musical partnership with the great Etta Jones that lasted over 30 years until her recent passing. A passionate tenor saxophonist, alternately tough and tender, Person's own talent was often overlooked because of his association with the phenomenal vocalist. He's only now beginning to receive the recognition he so richly deserves as today's leading instrumentalist in the tradition Gene Ammons and Stanley Turrentine made so popular during their careers.
AllAboutJazz:
You're a very busy man. What have you been up to lately?
Houston Person:
I just got back in town. I was in Paris, came back and went to Minneapolis and then played a jazz party out in Newport News, California. I did a recording with Barbara Morris and Junior Mance and I recorded with Rhoda Scott and Melvin Sparks in France. We recorded and then played a week at the Meridian Hotel in Paris. I'll be at the Lenox Lounge with my regular band - Stan Hope on piano, Chip White on drums and Per-Ola Gadd on bass. He's from Sweden. We played together there. People told him he should be in the Sates, so he came and we hooked up.
AAJ:
You've got a new recording coming out.
HP:
I've got one out now called
Social Call
. The next one is a tribute to Etta [Jones]. It's with the regular band, playing tunes she liked. Things associated with her like "Don't Go To Strangers", "Don't Misunderstand", "Love Walked In", "What A Wonderful World". Those types of songs.
AAJ:
What's it like for you, life after Etta? You were together as musical partners for such a long time.
HP:
Well, you know, I miss her. I'm just going on playing music like we always did.
AAJ:
Except now there's no singer in the group. Do you think you might ever try to find another singer to try to fill her slot in the band?
HP:
Right now, I'm just not using a singer. [long pause]. Maybe later on, but not right now.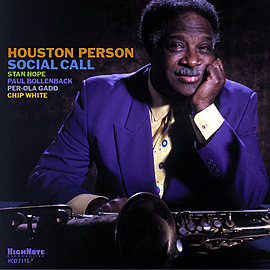 AAJ:
You've produced quite a few singers. Are you working with anyone now?
HP:
I'm still producing Ernie Andrews. I just did a date with Barbara Morris. And I'm working with a couple of up and coming singers. Well, three singers really. There's Judy Blair, who's from France. She's from the States, but she lives in France. I'm helping her with an album. I'm doing a thing with Terry Franklin and I'm also working on an album with Sofia Laiti, who's from Europe, but lives here now... We're working on her new album now. Oh, and there's another one that I just finished. A wonderful album by Dee Daniels, are you hip to her? She lived in Europe and now she's in Vancouver. She's from Los Angeles originally. I did a very nice one for her with Benny Powell and Norman Simmons and John Clayton and Kenny Washington.
AAJ:
Do you have a basic philosophy in playing and producing - what music is to you or what you think it should be?
HP:
Well, it's uplifting and important. And a release and a relief. That's what it is, jazz, so called jazz, to me. It's important that it's relaxing. Something that when the end of the day comes, after a hard and frustrating day out in the world, that relieves you. Relaxes you and makes you feel good.
AAJ:
I think that's a good philosophy and describes what you do very well and quite successfully.
HP:
Well, it's what I try to do.
AAJ:
You'll be turning 70 this year. You've been at this for a long time and have paid a lot of dues. Do you feel like you're finally getting some of the recognition you should have gotten along time ago?
HP:
[Laughs] Well I'm still paying dues, but it's gotten a little better, but, you know, that's just life. I don't worry about that. I'm having fun doing what I'm doing. A lot of people are giving me the opportunity to play and I'm enjoying it. I'm going to always play the things that I think contributes to good jazz, such as the blues and swinging, so I'm going to always be doing that. So I can't worry about what other people might say or where they might put it.
AAJ:
You've done some different kinds of things, but you've stayed true to your philosophy of playing blues oriented soulful jazz. People music, as I like to call it.
HP:
Well that's the only real barometer that you have, is the people, and I realized that a long time ago. There were certain types of jazz and people were pushing jazz in another direction and it was almost going the way of an elitist music, that it was going to be the music for the few, the privileged. I don't have any reason for being a part of that.
AAJ:
You've received a lot more attention from the people who listen than critics who write about it.
HP:
Yeah, well that's what I mean. That's just the jazz world.
AAJ:
Well, no matter where I go to see you, there are always people and they always seem to be enjoying themselves.
HP:
And that's what I care about.
---