Carl Weingarten: Hand in the Sand: A Collection 1990-2004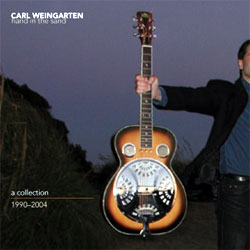 While he may not be known to a broader international public, guitarist Carl Weingarten has been an active player for the past fifteen years, recording nine albums mostly for his own Multiphase Records label. As he moves forward in a career that has been compared to a diversity of artists including Brian Eno, Robert Fripp, Bill Frisell, Leo Kottke, Ry Cooder and others, he takes stock of his career so far with
Hand in the Sand
, which serves as a comprehensive look at this intriguing player with a broad musical reach.
Weingarten, who plays a multitude of guitars but favours the Dobro, may not possess the virtuosity of, say, a Jerry Douglas, but he does demonstrate a lyrical sense and a set of musical influences that incorporate everything from ambient music to Americana. Take the title track, which begins with solo Dobro and images evocative of Ry Cooder's classic soundtrack to the film Paris, Texas , until Robin Bonnell's cello enters and creates a more chamber-like ambience. Or "Local Journeys," which, with Michael Manring's Jaco-inflected bass and Brian Knave's light-yet-insistent percussion, has the tinge of the Middle East while still feeling somehow distinctly American.


"West of Austin," with Robert Powell's pedal steel and Weingarten's Dobro and electric slide guitar comfortably supported by a piano/bass/drums rhythm section, sounds like something that could have been performed by the short-lived Jerry Douglas/Sam Bush/Béla Fleck/Edgar Meyer/Jerry Douglas supergroup Strength in Numbers. "An Early Fall," a solo piece, and "Bone Dog Blues" easily fit within Frisell's Americana universe but are less idiosyncratic.
Elsewhere in the collection Weingarten moves even farther afield. "Falling," with its looped harmonic guitar rhythm track and silky overdriven guitar, clearly comes from Fripp/Eno territory, but with a bass and percussion track, has more forward motion. "Cambodian Waltz" blends a roots-style guitar with Joe Venegoni's mbira to create an unusual cross-cultural blend. And "Illumina Suite," with its spacious ambience, clearly comes from Eno's collaborative work with pianist Harold Budd.
Weingarten manages to combine these varied influences into a conceptual whole that is linked by a rich melodicism that pervades every track, and a concise playing style that is clearly heavy on substance while not forgoing style. Included in the collection are the previously-unissued "Holograph Blues," as well as two tracks from his forthcoming release, Local Journeys , due out in the spring of '05. Hand in the Sand serves as a captivating introduction to an artist who, with an economical and almost ecumenical approach, has been creating compelling work for over a decade and is certainly deserving of a wider following.
Track Listing
Local Journeys; West of Austin; An Early Fall; Bone Dog Blues; Up the Down Slide; Falline; My Beautiful Moon; Cambodian Waltz; Illumina Suite; Dust Coves the Sky; Pedro's Lament; Holographic Blues; Come with Me; A Sacred Sleep; Red Night; Hand in the Sand
Personnel
Carl Weingarten (Dobro, slide guitars, electric slide guitar, steel guitar, effects, classical guitar, keyboard, ebow, delays, sequence)
and featuring, on various tracks: Brian Knave (harmonica, percussion), Michael Manring (bass), Robert Powell (pedal steel), David Finn (piano), Joe Vengoni (mbira, percussion), Mark Epstein (bass), Walter Whitney (synthesizer), Angela Fields (cello), R. Scott Bryan (percussion), James Mayer (bass), Dan Reiter (cello), Robin Bonnell (cello), Tom Whitehead (piano), John Hanes (percussion), Kat Epple (flute), Barry Cleveland (percussion)
Album information
Title: Hand in the Sand: A Collection 1990-2004 | Year Released: 2004 | Record Label: Unknown label
Post a comment about this album