Gregg Keplinger: Drum Fight at the GK Corral
Imagine the sound of John Coltrane, Jimi Hendrix, Gene Krupa, and the St. Patrick
Gregg Keplinger is on a roll. The Seattle drummer has recorded more in the last six years than he has during any period throughout his 40-plus year career. His latest release, Absurd World Country, which he co-produced with saxophonist Mike Monhart, features over 20 local musicians playing without reference to time or pitch—a colossal free jazz/improvisation project—and all it took was a call from Kep to his friends and fellow musicians, suggesting they "show up and blow.
Twenty some years ago I got a job making pizza, nights, down on Northlake Way in Seattle. The job was just a block from where I lived in the upstairs third of a house-turned-triplex on 7th Ave NE. During the day I'd sit on the couch and watch weed-pullers in the Pea Patch community garden across the street. Next to the Pea Patch was a city sewage treatment plant - on hot days its funky aroma permeated the neighborhood - and to the south stood the University Bridge like an old priest, steel arms drawn skyward, blessing sea-bound vessels. Its much younger, much larger cousin loomed overhead like an alien spacecraft as strands of ant-size cars scurried back and forth across the length of its massive, elongated hull. Traffic on the I-5 Ship Canal Bridge produced a constant whoosh of displaced air that mixed with a cyclical, mantra-like rumbling from the house next door—a thunderstorm that would last for hours each day.
The thunder was my neighbor Gregg Keplinger playing his drums. Standing six feet tall, built like a truck, with hands the size of hubcaps, Kep reminded me of the classic Western hero: rough around the edges, reticent, intense. Throughout the fall and winter months he played duets with the driving rain that pelted his shed. In spring and summer, on breaks from practicing, he would stand in the frame of his open front door—stylin' in a wool coat, collar up, jeans, leather shoes—phone to his ear, while the neighborhood cat napped on his porch, curled up in the sun.
Musicians flocked to Gregg's pad, especially drummers. Cymbals and drums hung from the ceiling and walls like icons. Among them was a vintage Rogers Holiday 4-piece, Gregg's first kit, and his first drum: a Ludwig WFL Transition Badge, blue mother-of-pearl 5-inch shell, 8-lug snare—a present from his folks. He kept it dark in there, kept the windows covered. Once your eyes adjusted, it felt like being in a mystical, drummer sanctuary. Somehow he found space for a drill press and materials to make drums, custom jobs for guys who came through town and knew enough to stop by. Coltrane's drummer, the great Elvin Jones had one of Kep's drums: the Keplinger Snare. Word got around.
I found all this fascinating, since I was a drummer, too, as a kid. I'd listened to Buddy Rich and Gene Krupa records. I'd taken lessons for a minute in high school. Marched with the marching band. I'd brought my drum kit with me to college and pissed off a few people with some thunder of my own. They pounded on my door and made ugly faces through the window one afternoon as I beat those drums as hard as I could, locked in my campus dorm room. A few years later I ended up loaning them to a guy who lost the cymbals and half the drums. He said they fell out the back of his van going 70 mph on the way up from a gig in Portland. Right. Thanks, man.
So I asked Gregg to sell what was left of my kit. He did, with a hint of a smile, without making me feel more foolish than I already did. I knew he dug Coltrane, and I started looking for Coltrane's records, if I could find them second-hand. Sometimes, when his door was open, we'd hang out and I'd hit him with all these questions about music, growing up in Seattle, visiting other cities—life, I guess—and just listen to his stories.
Gregg's parents were rounders. They made the rounds of Seattle's dance halls and nightclubs. His dad was a popular guy, a news announcer for a bunch of local radio stations, and he often took the missus out on the town. Gregg soon adopted his parents' lifestyle, attending teen dances at area schools and churches. He paid close attention to the drummers. Ron Woods of The Dynamics. The drummer with the Frantics. The Viceroys. Tiny Tony and the Statics with Marelee. In '65, the year he graduated from Lincoln High, Gregg saw Elvin Jones play with Coltrane's sextet at the Penthouse (then located on First and Cherry).
"When I got into playing at 14, I got into Coltrane. That wasn't an easy thing to do. I had to really work at it. When I first started listening to 'Ascension' I could get into it for maybe fifteen minutes, and then I'd have to go have a brain enigma. The funny thing to me is the heaviest album on earth ('Live in Seattle') was recorded in this sleepy little burg.
Gregg started taking drum lessons in 8th grade with Shorty Clough, who ran a drum school downtown in the Fisher Studio Building. He kept at it all through high school, also taking lessons from Fred Zeufeldt and Dave Coleman Sr. He played his first gig at a jazz coffee house in Pioneer Square, jamming on Lee Morgan's "Sidewinder and Les McCann's "The Shampoo. But the first time he actually played with musicians was a few years earlier, with a band called The Galaxies.
"I couldn't play hardly anything. I'd been playing about 7 weeks or something, and I couldn't play nothing but a snare drum. And then they got a drummer who could really play, and I was in love with this guy, you know. They felt real self-conscious about playing a dance I went to and playing with this other drummer, but I was like, 'Yeah man, put it on me. I want to learn from this guy. He's really cool.'
Soon after graduation Gregg got news that Uncle Sam wanted him in Vietnam. He enlisted, but the medicos rejected him on account of a bum knee. So he headed south to Mexico with a couple of buddies, fellow army rejects, all the way down to Guadalajara in a '53 Studebaker that he'd bought for 30 bucks. After a year down there, he came back to the States and joined a psychedelic blues band in L.A. Bluesberry Jam, with Gregg on drums, worked all over town. They opened for some big name acts—Iron Butterfly, The Doors, Canned Heat; and played some groovy venues—the Whiskey-A-Go-Go on Sunset, the Magic Mushroom on Venture Boulevard. It was a wild scene, man, the late 60s.
Then Kep went home and joined the circus.
Jackie Walcott hipped Gregg to the circus gig. Walcott, a legit vaudevillian known as The Mad Drummer, possessed an incredible left hand technique. Gregg was floored by Jackie's left hand, told him so, and soon was subbing for Walcott at the Blue Banjo (now Doc Maynard's) in Pioneer Square.
When the Mad Drummer wasn't playing in town, he was touring with the James Brothers Circus up and down the coast. Once, when Jackie couldn't make the tour, he asked Gregg if he'd take his place. Talk about on the job training. Jackie scripted the entire drum part—rim shots, drum rolls, cymbal crashes—on paper for Gregg to follow during the show. Crib notes in hand, he joined the James Brothers under the big top in Portland and later agreed to drive a trailer in the circus caravan. The lion-and-tiger trailer. At each stop, when those cats smelled the horses, they went ape shit.
Gregg lived in New York for a year during the disco era—a hard time for drummers. There was some kind of city ordinance restricting excessive sound—clubs would hire a piano, bass, saxophone, but they wouldn't carry drums. And it was a sweat moving them in the city.
"I remember playing New Year's Eve in a hotel on Central Park South. Right in the middle of it. Played to a room full of strangers. When I got done I carried all my stuff up a flight of stairs to the street, and there were only 150,000 people walking by the hotel. It was one o'clock. Everybody's walking home from Times Square.
Back in Seattle, Gregg played New Wave/R&B with Red Dress for a couple of years in the '80s. He played Dixieland for a couple years. Elks club gigs. Musicals—Rocky Horror at the ACT Theater, Little Shop of Horrors at the Empty Space. The big bars with live music had closed down or changed their format to canned music, deejays. So Gregg started his business, the Keplinger Drum Company. Ran it out of his house. And he practiced a lot, sending claps of thunder reverberating throughout the neighborhood—creating loud, dense, petal-to-the-metal, balls-to-the-wall SOUND.
When the grunge scene hit in the early 90s, Gregg found work as a drum tech. He toured the world with Our Lady Peace, Pearl Jam and Soundgarden, who reprinted a picture of his heart (after multiple surgeries) in their 1994 release "Superunknown. What looks like a blue planet surrounded by a web of red rivers—is actually Gregg.
The surgeries, plus chronic back pain, tendonitis, arthritis, partial hearing loss—the occupational hazards of a drummer—haven't prevented Kep from recording more in the last six years than at any time in his career. His latest disc is a blow-your-mind collage of sound titled Absurd World Country. It features 20-plus musicians and singers playing electric and acoustic instruments over a foundation of drum and saxophone sketches by Keplinger and Mike Monhart. The large group sessions were taped at three local studios (Avast!, Chroma Sound, Studio Litho) over a period of two days, with the exception of one live track recorded at a Seattle nightclub.
How to describe the finished product? Imagine the sound of John Coltrane, Jimi Hendrix, Gene Krupa, and the St. Patrick's Church Choir—all blowing at once, and you're in the ballpark. In Gregg's own words: "It's different, eclectic, pretty out there. I just wanted to get various instruments together and see what happens. Just have them show up and blow.
It's also testament to the kid who heard Coltrane and never stopped listening. To the Wild West drummer and his deputies in music. To the thunder that's rocked Seattle for the last 40 years, and keeps on rollin'.
On the making of
Absurd World Country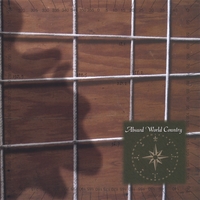 "Working on this CD was rather unlike any I'd done prior. Gregg came to me with a hard drive full of raw materials - performances he had collected at Chroma Sound and Avast! of nearly 20 players. Most of the musicians were "flying blind," being given no reference track, no key, and no tempo within which to work. They were given a timeframe to play what they were feeling and nothing more. The trick in the mix came in trying to match up parts that felt like they belonged together; something that was recorded in April at Avast! might be paired with an earlier track from March at Chroma, or two different days from the same studio. "Moth Moon E-Flips," which became a bit of a centerpiece to the disc, embodies this aesthetic best of all, taking Achil Jackson's delicate solo voice and placing on top of the sublime cacophony of the multiple horn parts, violin, guitars, keyboards and Gregg's swinging drums. Twelve players all recorded separately, brought together by technology to form a new whole. ~ Don Gunn
"This was my second recording with Gregg. I like his approach of mixing disparate ingredients. He has a wide scope of sounds in his life. He is comfortable listening to more than one recording playing simultaneously. This rich stew of sound challenges your orientation as a listener and player. Do you surrender or fight the onslaught? Do you pick one thread and follow it or jump between ideas? Do you blend with the whole universe of sound or add your distinct statement? I find the choices and sounds invigorating and refreshing. Gregg had several combinations of musicians lined up at the studio when I got there. It was organized spontaneity. Gregg picked who would play together and the order of combinations. There were elements of the many different musical worlds that Gregg inhabits. I decided to try something new by bringing a small sound system and signal processors to distort the sound of my saxophone. I also used my voice with some harmony effects and brought some whistles, bells, and drums. I played one or two things with a small ensemble and then Gregg gave me 20 minutes to experiment with feedback and play unaccompanied. Later he mixed and combined this stuff with other recordings in his collection. ~ Steve Griggs
"Gregg is unique in that his vision for his music is constantly expanding. For this project he compiled audio tracks from seemingly disparate sources (Seattle jazz players, opera singers, rock musicians, free improvisers) and blended them into a cohesive album. He is a pleasure to work with, because although he has a specific intent for the direction of the project, he allows those working with him a great deal of musical and creative freedom. ~ Paul Kikuchi
"I always enjoy working with Gregg as he is a musician more personally devoted to his instrument than almost any other that I know. His honesty and sincerity always reach through and touch the listener, and he has a very very strong, powerful presence. I hope to work with him again soon. ~ Gust Burns
"The idea of recording 17 soloists separately and mixing them together sounded like an imaginative way to break out of the open blowing cul-de-sac that has confined free jazz into cliché-ridden clickity-clack for the last 14 years, making it one of the most dated and stereotypical forms of musical expression the planet has ever known. Gregg recorded enough music for a 3 CD-set that might have blown the clouds off this tired town. Instead, he recorded some safe blowing sessions to alternate with a few masterpieces of mixology, cracking the cascade-riddled minds of this Scandinavian resort town open just enough to let a little fresh air in, but not so much to sweep their minds away, which is what might have happened had the project been less compromised by safe passages. Still, although it's a small step for Gregg Keplinger, it's a giant step for Seattle. As far as my personal experience went, it was the most pleasant day I have ever spent in a recording studio. The company could not have been better, and the food was great. It has been a long time since I have enjoyed such camaraderie among musicians. ~ Bill White
"I remember photographing and interviewing Gregg with Daniel Carter and Reuben Radding at Jack Straw Studios the first time they played together. He was playing an incredibly rare '65 Rogers kit with an 18-inch bass drum and one of his own hand-crafted stainless steel snare drums. The sound was just massive. Between the performances of those three guys, I couldn't keep my jaw off of the floor. I mean, you can forget about creative stagnation in this arena. The guy's music is so fluid that it is like it comes from an underground spring or something. ~ Jack Gold
Gregg Keplinger: A Selected Discography
Absurd World Country
(Monhart/Keplinger, 2005)
Mike Monhart - saxophone
Gregg Keplinger - drums
Ann Talbott - guitar
Zack Reinig - guitar
Achil Jackson - voice
Tom Swafford - violin
Mike Monhart - tenor sax
Dan O'Brien - bass
Kevin Suggs - pedal steel
Tom Skoog - trumpet
Emily Bishton - vocals
Adam Diller - tenor sax
Rich Phillips - piano
Zac Bogart - guitar
Stone Gossard - bass
Steve Griggs - tenor sax
Jorge Meza - voice
Bill White - guitar
Paul Kikuchi - piano
Eric Apoe - voice
Jeff Harper - bass

Not Out For Anywhere
(Sol Disk, 2005)
Daniel Carter - horns
Reuben Radding - bass
Gregg Keplinger - drums
various artists
"The year after Language, I planned a second record with Reuben and Daniel—same scene, plus a ton of other cats for a big free blow. I liked it."


Lost Valentine
(Sol Disk, 2003)
Wally Shoup - alto saxophone
Reuben Radding - bass
Gregg Keplinger - drums
recorded live at the Sunset Tavern
"This group was conceived by Wally. For some reason, he didn't want to front it, so I reluctantly took it on. This pretty much speaks for itself - a free blow in a bar."


Language
(Origin, 2003)
Daniel Carter - horns
Reuben Radding - bass
Gregg Keplinger - drums
"Reuben thought Daniel and I would hit it off, and we did in many ways; same age/era growing up and we both saw Coltrane live - a huge influence! The (live) gig was very freeing and positive so I thought it would be cool to make a record."


Tribute
(Origin, 2000)
Rick Mandyck - tenor saxophone
Gregg Keplinger - drums
"Rick Mandyck on tenor...Wow!!!! We both love Coltrane & Elvin, etc. John Bishop from Origin Records made it all go down. Thanks, John and Rick."
Post a comment