Mark Elf: Glad to Be Back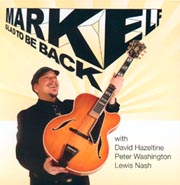 "Sometimes," guitarist Mark Elf writes in the liner notes to
Glad to Be Back,
"it takes something really serious to make one appreciate life and what the [importance] of good health means." In Elf's case, that "something" was two major surgeries, the first for a kidney disorder in December '02, the second for prostate cancer in June '03.
Elf truly is "glad to be back," and his enthusiasm and gratitude shine through on every note on this delightful album, several of whose tunes are dedicated to physicians and friends whose knowledge and counsel helped him weather the storm and return to good health. As one who has been a fan of Elf's for some time, it's great to see the smile on his face, the spring in his step and the strings of his guitar spitting out those eighth-notes once more, and to hear him express his appreciation the way he knows best, through his invariably animated and buoyant music.
As usual, Elf has surrounded himself with the best sidemen he could find, in this case pianist David Hazeltine, bassist Peter Washington and drummer Lewis Nash, as snug and capable a threesome as one could possibly envision. They have to be on their toes to complement Elf's inspired phrases, and they are. The interplay at every tempo and in every mood is never less than immaculate, while Hazeltine appends a number of tasteful solos.
As if being an awesome player weren't enough, Elf is such a splendid writer that his seven compositions (of the album's eleven tracks) more than hold their own against the standards (Burt Bacharach/Hal David's "Alfie," Hoagy Carmichael's "Little Old Lady," two well-grooved takes of Rodgers and Hart's "Falling in Love with Love"). Five of the seven were written to thank some of those who helped him regain his equilibrium when illness struck. It may not be customary but I'm going to name each of them, as their role in Mark's recovery was perhaps decisive. "Groove for Gonzalez" (for Dr. Jose Gonzalez), "Bossa for Eric A." (Eric Allen, KSMF, Ashland, OR), "A Fancy for Yancy" (Yancy Carrigan, WESM, Princess Anne, MD), "Ballad for Bertrand" (Dr. Bertrand Guillonneau of Memorial Sloan Kettering Hospital), "Gaston's Gate" (Barry Gaston, KMUW, Wichita, KS). Thank you one and all, as Mark says, for your " tremendous help and support... during those difficult times." The other originals are "Elfin's Pace" (based on Coltrane's "Giant Steps") and "Count Spacy," a twelve-bar blues inspired by a Joe Diorio composition, "Blues for All Space Cadets."
Elf chose to use both versions of "Falling in Love" because, he says, he simply couldn't decide which one was better. He was right again, as each take is exemplary, and could be renamed "Falling in Love with Life." Mark Elf surely is Glad to Be Back, and once you've heard this album you'll be glad he is too.
Track Listing
Elfin's Place; Little Old Lady; Groove For Gonzalez; Alfie; Bossa For Eric A; A Fancy For Yancy; Falling In Love With Love; Ballad For Bertrand; Gaston's Gate; Falling In Love With Love.
Personnel
Mark Elf--Guitar; David Hazeltine--Piano; Peter Washington--Bass; Lewis Nash--Drums.
Album information
Title: Glad to be Back | Year Released: 2004 | Record Label: Jen Bay Records
Post a comment about this album