Eric Alexander: Gentle Ballads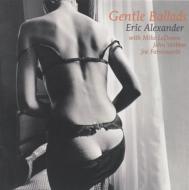 This CD offers classic fare from a well-oiled quartet. It's a satisfying sampler of tenor saxophonist Eric Alexander's strong, burnished-copper tone, which is nicely balanced by pianist Mike LeDonne's elegant filigree. In a recent
Downbeat
interview, Alexander named Coleman Hawkins as a major influence because "he just puts the information on the plate, and more power to you if you can figure it out and make use of it for yourself." Alexander has a similar directness; even when he's blowing hard, he's no blowhard, scattering notes around just to prove he can do it. Every note has meaning.


Despite the CD's title, not all tracks are ballads, but the music rarely revs higher than mid-tempo; what you get are over 70 thoroughly mellow minutes. Most of them involve respectful takes on venerable standards: "Harlem Nocturne" appears on two tracks at different tempos, "Here's to Life" becomes a gentle samba, and "Stormy Weather" is a swinging, late-night Alexander/LeDonne duet.


There are also some lesser-heard gems like Mal Waldron's beautiful "Left Alone," the pensive Jones/Salvador tune "The Midnight Sun Will Never Set," and "Gently," a strong Alexander original that fits nicely into this set. The approach is primarily straightforward, with some nice solo turns all around—and kudos to drummer Joe Farnsworth and bassist John Webber for keeping things interesting in the background. Gentle Ballads is a classy, romantic CD.
Track Listing
The Midnight Sun Will Never Set, Left Alone, Gently, Here's to Life, Midnight Sun, Harlem Nocturne, Soul Eyes, Under a Blanket of Blue, Stormy Weather, Chelsea Bridge, Harlem Nocturne II
Personnel
Eric Alexander (tenor sax), John Webber (bass), Mike LeDonne (piano), Joe Farnsworth (drums) Tetsuo Hara, Todd Barkan (producers)
Album information
Title: Gentle Ballads | Year Released: 2004 | Record Label: Venus Records
Post a comment about this album