Gebhard Ullman: The Big Band Project / Desert Songs and Other Landscapes / Spirals
Gebhard Ullmann
The Big Band Project
Soul Note
2005
In 2001, German saxophonist Gebhard Ullmann had the opportunity to record with the 20-piece NDR (North German Radio) Big Band, a project which he - a confessed non-fan of big band music - was hesitant to take on. It turns out to be one of Ullmann's best records in his 20 year career.

Ullmann rose to the task by bringing in arrangers to chart six of his compositions for the group. Wisely, one of them was pianist Satoko Fujii, one of the most exciting big band leaders working today (and that list is a short one). Her two contributions are smart while being faithful to the originals and giving guitarist Stephan Diez a chance to burn. Bassist Chris Dahlgren also proves to be an inventive craftsman, making sweet jazz out of Ullmann's signature "Ta Lam and a slow blues of "Blaues Lied . Günter Lenz and Andy Emler work through the final two pieces. Like seeing a photograph of a familiar landscape, this disc shows Ullmann the composer through the eyes of others.
Gebhard Ullmann/Steve Swell
Desert Songs and Other Landscapes
CIMP
2005
Ullmann solos throughout the disc, but as a player is featured more prominiently on two other recent discs. The quartet he leads with trombonist Steve Swell shows his fire and it would be impossible to do anything else with a player like Swell standing next to you. With Hilliard Greene on bass and Barry Altschul on drums, the band plays pieces by each of the leaders and one group improvisation. Ullmann's always a safe bet on bass clarinet, but screams on the sax here as well.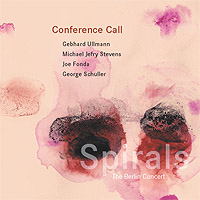 Conference Call
Spirals
482 Music
2005
A little more subdued (except for a short hollering track about the Bush administration) is last year's Spirals, by Ullmann's group Conference Call. Drummer George Schuller proves an interesting replacement for Han Bennink, who played on the group's 2003 Leo disc Variations on a Master Plan. They have a softer swing here now, with Michael Jefry Stevens on piano and Joe Fonda on bass. It's the least exciting - at least in an adrenaline sense - of the three, but shows another facet of a strong horn player who deserves more notice on these shores.

The Big Band Project

Tracks: 1 Think Tank [live] Ullmann 5:40; 2 Tá Lam [live] Ullmann 11:15; 3 Fourteen Days/Café Toronto [live] Ullmann 10:08; 4 D. Nee No [live] Ullmann 7:49; 5 Kreuzberg Park East/High Lam Earth [live] Ullmann 10:14; 6 Blaues Lied [live] Ullmann 12:35

Personnel: Julian Arguelles: Baritone Sax; Peter Bolte: Alto Sax; Lutz Büchner: Flute, Alto Sax; Ingolf Burkhardt: Trumpet; Frank Delle: Tenor Sax; Marcio Doctor: Percussion; Fiete Felsch: Flute, Alto Sax; Joe Gallardo: Trombone; Sebastian John: Trombone; Ingo Lahme: Trombone; Christof Lauer: Tenor Sax; Lucas Lindholm: Double Bass; Tom Rainey: Drums; Vladislav Sendecki: Piano; Claus Stötter: Trumpet, Flugelhorn; Gebhard Ullmann: Bass Clarinet, Soprano, Tenor Sax; Reiner Winterschladen: Trumpet
Desert Songs and Other Landscapes

Tracks:1 Box Set Swell 10:51; 2 Flutist With Hat and Shoe Ullmann 6:52; 3 Seven 9-8 Ullmann 12:42; 4 Camel's Gait/Desert Sands, Pt. 1 Altschul, Ullmann 18:42; 5 Under the Other Swell 8:47; 6 Desert...Bleue...East Ullmann 7:42

Personnel: Barry Altschul: Drums; Hillard Greene: Bass; Steve Swell: Trombone; Gebhard Ullmann: Bass Clarinet, Tenor Sax
Spirals

Tracks: 1. Comeuppance; 2. Dreierlei; 3. Little Pete's Diner; 4. Announcement; 5. Three; 6. Translucent Tones; 7. No Hazmats

Personnel: Gebhard Ullmann: bassclarinet, tenor, soprano saxophone; Michael Jefry Stevens: piano; Joe Fonda: bass; George Schuller: drums, cymbals, bells
---