Frankie Manning: Dancers and Musicians - A Mutually Beneficial Relationship
Editor's Note: Frankie Manning died on April 27th at New York City's Lenox Hill Hospital of pneumonia. He was 94.
By
Frankie Manning
(with Cynthia R. Millman)
I've been a Lindy hopper since the '30s, when the Savoy Ballroom in Harlem became my second home and I started working with Whitey's Lindy Hoppers. Having followed the jazz scene for almost seven decades, I see a big difference between the old days and these new times. Lindy hoppers today don't get to dance to live music as often as I wish they could. And jazz musicians don't have as many opportunities to play for dancers as they used to.
Dizzy may have helped create bebop, but I heard him say that if you don't play for dancing, you ain't no good. At the Savoy, all the musicians, even the greats—Louis Armstrong, Coleman Hawkins, Lester Young and Ben Webster, just to name a few—always had the chance to play for a dancing audience because there were more dances then than concerts. Nowadays, you usually listen to jazz in a nightclub or theater, but back then music and dancing went hand-in-hand. The orchestras were there to get the dancers up on the floor and if they didn't, they were out.
From a Lindy hopper's point of view, it can be a little frustrating to sit and listen to a swinging band. At a concert, say Benny Goodman at Carnegie Hall, the audience can feel the power coming from that stage, but the best they can do is bounce in their seats. If I hear some music that's really swinging, boy, it just gets into me! I've been in clubs with just a little space between the tables, where the music has gotten under my skin and made me want to MOVE! I'll be holding it in as long as I can, but it gets to the point where I say the hell with it, grab whoever's next to me and just dance up a storm in that little spot. You just want to explode!
Dancing to live music gives me so much. I can really enjoy an orchestra that's been together for a while and emphasizes their own special sound. Sometimes I like expressing what a singer is saying or scatting, especially if you've got a group that's really backing her. There are a lot of songs with words that move me, especially those sung by Ella Fitzgerald. I also like responding to a beautiful, smooth melody like "Shiny Stockings."
The most important thing when I'm dancing is a really swinging beat. That comes from the whole rhythm section (which is what made the Basie band so great), but the loudest thing a dancer hears is the drummer. Even if the drummer is emphasizing a riff or what a soloist is doing and breaks the rhythm up, if he keeps a steady beat, you're okay. In my opinion, Shorty Snowden was the most outstanding Lindy hopper at the Savoy because he was so rhythmical. He had such a bouncy way of swinging that it made me want to move just like him. I was drawn to him because he really danced to the music.
I also think that a musician can get a lot from playing for dancers. Back in the '30s we were mostly about the rhythm. We would catch some things, but not try to catch everything. Lindy hoppers today are very creative at interpreting what they feel the music is saying. Either way, dancers give musicians something to work off of. A musician can tell that he's affecting the dancers because he'll see them catching what he's playing, trying to dance to a riff, playing with the music, etc. And he'll notice that they have big smiles on their faces and are having a good time. Watching the energy that comes from the dancers can make some musicians want to swing harder. They might say, My music has hit these cats and I'm going to blow for them.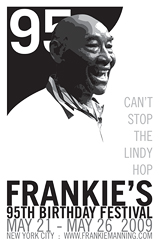 Yes, musicians can get inspired by dancers. I've seen it happen in the past and more recently. Sometimes an instrumentalist will nudge the guy next to him on the bandstand, as if to say, Dig that couple out on the floor. Then you see those cats getting into a mood that says, Man, I can't wait to get to my solo. It's too bad that some musicians never have this experience.
Don't get me wrong: I love listening to great jazz in a nightclub or theater, but I prefer to hear it while I'm dancing because I can express my feelings, rather than suppress them. And I think that if more people could dance to swing, it would help build the jazz audience. Of course, there have to be places for this to happen. I'm thrilled that over 2,000 dancers from more than 30 countries will get to swing out to 12 bands at "
Frankie 95
," my upcoming birthday party.
I believe a resurgence in live dance music would make for a real connection between musicians and dancers. And that's a wonderful relationship.
About Frankie Manning
---
Related Video