Jay Leonhart Trio: Fly Me to the Moon: Tribute to Ray Brown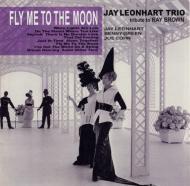 I am an avowed sucker when it comes to Ray Brown; mention of his name is guaranteed to raise my eyebrows and catch my attention. When, in addition, I see names like Benny Green, Jay Leonhart, and Al Cohn's son Joe in association with a tribute to the master bassist, I'm pretty well on the way to being hooked, before I've heard a note. Such was the case when this CD arrived, and it's just as well; if I had known nothing about the honoree, musicians or music enclosed, I would have been out of luck. The album arrived without promotional information, and this Tokyo-based company's liner notes are all in Japanese!
But no matter; all that one needs to enjoy this superb release are ears, a CD player, and a basic understanding of the language of jazz. This stellar trio plays its way through eleven standards in nearly 66 minutes, and the result is as fresh and tasty as you could ever wish. The trio's instrumentation begs comparison with the great Oscar Peterson Trio, of whom Brown was such an important member, but this threesome plays with confidence and gusto, as if to scoff at the folly of such futile mind play. Joy and good fun exude from the disc as if from pores. Green's creativity, technique, musicianship, and general ebullience are capable of lifting one's mood faster than Prozac, while Cohn's melodic and harmonic virtuosity and vocabulary are quietly dazzling. In addition to rock-solid time and satisfying solos, Leonhart provides leadership and the glue that ensures against the episodic risk of centrifugal disintegration.
Highlights of the album include a brisk and sparkling "Street Where You Live"; Green's awe-inspiring solo on "No Greater Love"; Green and Cohn's counterpoint in the opening minute and again near the conclusion of "Just in Time"; Leonhart's wistful arco bass solos in "Alone Together" that sandwich a swinging
samba
beat; and the beautiful, underexposed Cole Porter ballad "Dream Dancing." The CD concludes with the lovely and relatively obscure "Some Other Time" by Leonard Bernstein, after which my player is conveniently set to "replay."

Track Listing: When Lights Are Low; On the Street Where You Live; Skylark; There Is No Greater Love; That Old Feeling; Just in Time; Alone Together; Fly Me to the Moon; I've Got the World on a String; Dream Dancing; Some Other Time
Personnel: Jay Leonhart (bass), Benny Green (piano), and Joe Cohn (guitar)
---