Gap Mangione: Family Holidays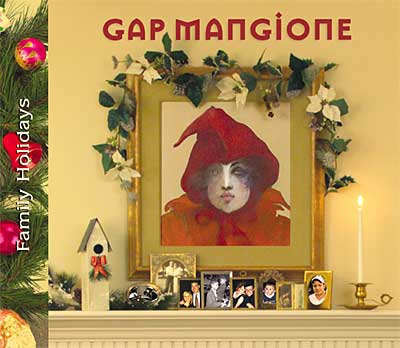 If this album can be used as evidence, family holidays must have been a blast at the Mangione home in Rochester, NY. Clearly, multi-talented Gap Mangione and his
paisanos
are having a lot of fun on this engaging album while making beautiful music that embraces not only the Christmas holiday season but several others as well, including a few whose meaning may be clear only to Gap, his friends and family. Among the latter is Leroy Anderson's enchanting "Serenata," which is a pleasure to hear on any occasion, especially when it houses awesome solos by Gap on piano, trumpeter Jeff Jarvis and the torrid tenor tandem of Andy Weinzler and Pat LaBarbera.
Seven of the album's fifteen selections are directly tied to Christmas, a couple to the New Year holiday, another to Gap's wedding anniversary, "Cinco de Mayo" (May 5, 1985). The others are less explicit, encompassing, besides "Serenata," a well-known hymn ("Amazing Grace"), Gap's "Bellezza," his arrangement of "Tarantellas," and brother Chuck Mangione's "Sweet Cheryl Lynn," a showcase for soprano saxophonist and longtime collaborator Gerry Niewood. Vocalist Cindy Miller is featured on "The Way We Celebrate New Year's," Gap, Niewood (alto) and trumpeter Jack Schantz on the leader's driving arrangement of Frank Loesser's "What Are You Doing New Year's Eve."
Anderson's evocative "Sleigh Ride," incorporating snappy solos by Weinzler, Jarvis and trombonist John Hasselback, is a highlight, as are the buoyant "Cinco de Mayo" (Weinzler, tenor; Grant Geissman, guitar), LaBarbera's and Schantz's fluent statements on Sammy Cahn/Jule Styne's handsome "Christmas Waltz," the captivating Sicilian "Tarantellas," and Weinzler's soulful arrangement of "Silent Night," on which his expressive tenor is once again front and center. Gap's two "duets" with Geissman ("Santa Claus Is Coming to Town," "Carol of the Bells"), which use overdubbing to produce a number of off-center effects, are slightly less successful, although the latter is polished and lyrical.
Mangione leads a first-class ensemble, and the music it plays is by and large exemplary, making Family Holidays a charming seasonal gift that almost anyone should be pleased to unwrap.

Track Listing: O Christmas Tree; Sleigh Ride; Christmas Waltz; Santa Claus Is Coming to Town; Sweet Cheryl Lynn; Cinco de Mayo; Carol of the Bells; Serenata; Bellezza; Joy to the World; The Way We Celebrate New Year's; What Are You Doing New Year's Eve; Amazing Grace; Tarantellas; Silent Night (73:21).
Personnel: Gap Mangione, leader, piano, keyboards; Dennis Tribuzzi, Jeff Jarvis, Jack Schantz, Pat Carney, trumpet, flugelhorn; Gerry Niewood, alto, soprano sax, flute; Andy Weinzler, tenor, soprano, alto sax; Pat LaBarbera, tenor, soprano sax; Ed Xiques, baritone, soprano sax; Mark Kellogg, John Hasselback, trombone; Bob Kalwas, bass trombone; Grant Geissman, guitars, synthesizer, percussion, vocals; Neil Swainson (1-3, 8, 12), acoustic bass; Tony Levin (5, 6, 9, 10, 13, 14), electric bass; Steve Gadd, Ted Warren (studio), drums; Cindy Miller, vocals.
---